ABC of Urology, 2nd Edition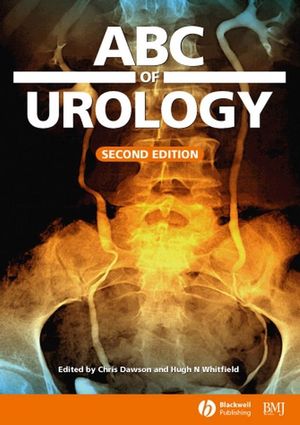 ABC of Urology, 2nd Edition
ISBN: 978-1-444-31279-9
Apr 2009, BMJ Books
64 pages
Description
Urological problems encompass a wide range of both distressing and potentially life threatening conditions and the number of general practice presentations is growing rapidly due to the increasing age of the population. Both reliable and comprehensive, the second edition of the ABC of Urology provides a thoroughly updated and revised guide to the speciality which highlights the recent advances in this area. Concentrating specifically on the treatment and diagnosis of the most common conditions, the emphasis is on shared care, where the skills of the primary care team are used in conjunction with hospital referral.





This concise, well-illustrated and highly practical text will provide the perfect reference for general practitioners and practice nurses, as well as junior doctors handling hospital referrals.
1 Urological evaluation.
Hugh N Whitfield.
2 Bladder outflow obstruction.
Jyoti Shah.
3 Urinary incontinence.
Helen Zafirakis-Hegarty.
4 Urological emergencies.
Adam Jones.
5 Subfertility and male sexual dysfunction.
Stephanie Symons.
6 Management of urinary tract infection in adults.
Philippa Cheetham.
7 Prostate cancer.
Chris Dawson.
8 Bladder cancer.
Derek Fawcett.
9 Renal and testis cancer.
Paul K Hegarty.
10 Urinary tract stone disease.
Hugh N Whitfield.
11 Common paediatric problems.
A R Prem.
12 Genitourinary trauma.
Asif Muneer
An authoritative, concise, and comprehensive guide to urology


Includes new information on radiological investigations

Introduces an evidence-based approach to trauma investigation and management

Focuses on primary care management diagnosis including ordering investigations, and follow-up after hospital treatment

Provides further details on chronic prostatic disease and palliative care for prostate and bladder cancer and an update on stones surgery (non-invasive)