ACA Ethical Standards Casebook, 7th Edition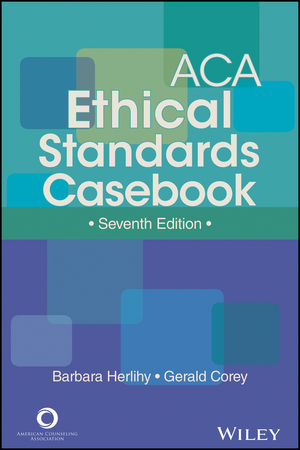 ACA Ethical Standards Casebook, 7th Edition
ISBN: 978-1-119-02538-2 November 2014 337 Pages
Description
"This practical guide is ideal both for teaching future members of the profession about their ethical responsibilities and for reinforcing ethical competence among current professionals. We strongly recommend this book."
Jeffrey E. Barnett, PsyD, ABPP W. Brad Johnson, PhD
Loyola University Maryland United States Naval Academy
Coauthors, Ethics Desk Reference for Counselors, 2nd Edition
"Herlihy and Corey's text boosts the reader's ethical understanding leaps and bounds above mere reading of the ACA Code of Ethics. With multifaceted case study examples and an integrated approach to tackling ethical dilemmas, this book is a must-read for students, counselors, counselor educators, and supervisors."
Shannon Hodges, PhD Michael Knight
Niagara University Graduate Student, Niagara University
ACA Ethics Revision Task Force Member
The seventh edition of this top-selling text provides a comprehensive resource for understanding the 2014 ACA Code of Ethics and applying its principles to daily practice. Each individual standard of the Code is presented with an explanatory case vignette, and a Study and Discussion Guide is provided at the beginning of each major section of the Code to stimulate thought and discussion. Common ethical concerns, with instructive case studies, are then explored in individual chapters. Topics addressed include client rights and informed consent, social justice and counseling across cultures, confidentiality, counselor competence, working with minor clients, managing boundaries, client harm to self or others, counselor training and supervision, research and publication, and the intersection of ethics and law. Chapters new to this edition examine managing value conflicts and the issues surrounding new technology, social media, and online counseling. The Casebook also contains an Inventory of Attitudes and Beliefs About Ethical Issues to assist counselors in developing a personal ethical stance.


*Requests for digital versions from the ACA can be found on wiley.com.
*To request print copies, please visit the ACA website here.
*Reproduction requests for material from books published by ACA should be directed to permissions@counseling.org.
Acknowledgments ix
About the Authors xi
About the Contributors xiii
Making the Best Use of the Casebook xvii
Part I Introduction 1
Evolution of the ACA Ethical Standards and the Casebook 4
Perry C. Francis
Foundations of Codes of Ethics 12
Barbara Herlihy and Gerald Corey
Developing a Personal Ethical Stance 15
The Ethical Decision-Making Process 15
A Review of Ethical Decision-Making Models 16
Melissa D. Deroche, Emeline Eckart, Earniesha Lott, Candace N. Park, and Latrina Raddler
Elements of Ethical Decision Making 20
Barbara Herlihy and Gerald Corey
Enforcement of the ACA Code of Ethics 23
An Inventory of Your Attitudes and Beliefs About Ethical Issues 25
Part II ACA Code of Ethics With Illustrative Vignettes 33
Section A
The Counseling Relationship 37
Section B
Confidentiality and Privacy 55
Section C
Professional Responsibility 66
Section D
Relationships With Other Professionals 78
Section E
Evaluation, Assessment, and Interpretation 82
Section F
Supervision, Training, and Teaching 93
Section G
Research and Publication 114
Section H
Distance Counseling, Technology, and Social Media 125
Section I
Resolving Ethical Issues 133
Part III Issues and Case Studies 139
Chapter 1
Client Rights and Informed Consent 143
Gerald Corey and Barbara Herlihy
Case Study 1: Keep Kendra's Secret, or Not? 147
Kelly L. Wester
Case Study 2: A Minor (?) Client 150
J. Scott Young
Chapter 2
Social Justice and Counseling Across Cultures 155
Courtland C. Lee
Case Study 3: She's Done This Before 162
William B. McKibben and Jodi L. Bartley
Case Study 4: Working With an Immigrant Family 164
Laura M. Gonzalez
Chapter 3
Confidentiality 169
Barbara Herlihy and Gerald Corey
Case Study 5: The Slap—How to Best Help Hope 176
Chris C. Lauer
Case Study 6: A Supervisee Feels Betrayed 179
Adria Shipp
Chapter 4
Competence 183
Gerald Corey and Barbara Herlihy
Case Study 7: I Feel Exhausted 187
Isabel A. Thompson
Case Study 8: Couples Counseling Gone Wrong 189
Jennifer M. Johnson
Chapter 5
Managing Value Conflicts 193
Barbara Herlihy and Gerald Corey
Case Study 9: I'm Stuck 198
Anneliese A. Singh
Case Study 10: A Parental Dilemma: Hastening the Death of a Child 202
Karen Swanson Taheri
Chapter 6
Counseling Minor Clients 205
Mark Salo
Case Study 11: A Legal Guardian Presses for Confidential Information 207
Amanda Crawford
Case Study 12: A Pregnant Teenager: A School Counselor's Quandary 211
Danielle Shareef
Chapter 7
Managing Boundaries 215
Gerald Corey and Barbara Herlihy
Case Study 13: Disputing Unhealthy Beliefs or Imposing Values? 223
Craig S. Cashwell and Tammy H. Cashwell
Case Study 14: If You Will Excuse Me 226
Matthew L. Lyons
Chapter 8
Working With Clients Who May Harm Themselves 231
James L. Werth Jr. and Jennifer Stroup
Case Study 15: Suicide or a Well-Reasoned End-of-Life Decision? 237
James L. Werth Jr. and Jennifer Stroup
Case Study 16: A Suicidal Teenager 240
Robert E. Wubbolding
Chapter 9
Technology, Social Media, and Online Counseling 245
Martin Jencius
Case Study 17: Making Social Media Decisions for an Agency 254
Martin Jencius
Case Study 18: A Client's Friend Request 256
Martin Jencius
Chapter 10
Supervision and Counselor Education 259
Barbara Herlihy and Gerald Corey
Case Study 19: Poor Supervision or Impaired Student? 264
Edward Neukrug and Gina B. Polychronopoulos
Case Study 20: An Imposition of Values? 268
Alwin E. Wagener
Chapter 11
Research and Publication 273
Richard E. Watts
Case Study 21: Expert Review of a Research Study 275
Richard E. Watts
Case Study 22: A Question of Authorship 277
Richard E. Watts
Chapter 12
The Intersection of Ethics and Law 281
Burt Bertram and Anne Marie "Nancy" Wheeler
Case Study 23: A Student Commits Suicide 283
Burt Bertram and Anne Marie "Nancy" Wheeler
Case Study 24: Good Intentions Go Awry 286
Burt Bertram and Anne Marie "Nancy" Wheeler
Highlights of Ethical Practice 289
References 293
Index 303