ADR and Adjudication in Construction Disputes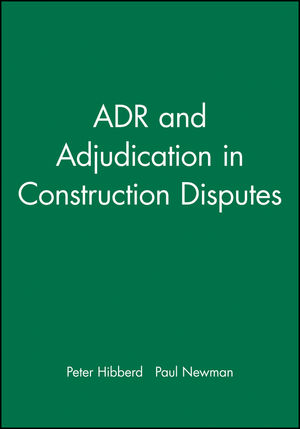 ADR and Adjudication in Construction Disputes
ISBN: 978-0-632-03817-6
Oct 1999, Wiley-Blackwell
324 pages
Description
For some years there has been growing dissatisfaction with litigation and arbitration as a means of settling construction disputes, and increasingly parties have been turning to adjudication and alternative dispute resolution (ADR).

This trend was given a major impetus by the introduction of the 1996 Housing Grants, Construction and Regeneration Act and the Scheme for Construction Contracts, which resulted in statutory adjudication being introduced in most of the main building and engineering standard forms.

This book surveys the growth of ADR and looks in detail at the various methods:

* adjudication and expert determination
* mediation and conciliation
* dispute review boards and disputes advisers
* other forms, such as mini-trial and mediation-arbitration

It discusses the Housing Grants, Construction and Regeneration Act and the Scheme for Construction Contracts, and their effect on adjudication and construction contracts considering both procedural and legal issues. It looks in detail at the adjudication clauses of all the main building and engineering contracts.
Contents: Construction Contracts - an inevitable source of conflict?; Arbitration and Litigation: a tarnished reputation; Growth of ADR in the UK, Australia and Hong Kong; Mediation and Conciliation; Adjudication and Expert Determination; Dispute Review Boards and Disputes Advisers; Other Forms of ADR; Practical and legal concerns in using ADR to resolve disputes; Adjudication and the 'Construction' Act; JCT Standard Forms of Contract and associated subcontract forms; General conditions of government contracts for building and civil engineering works; Engineering forms of contracts; New Engineering Form of Contract and the Adjudicator's Contract; Model Rules for Adjudication: Appendices; References; Table of Cases; Index.
"This is the first book I have seen dedicated to detailed examination of ADR, adjudication and contractual provisions for dispute resolution, and I recommend it to everyone involved in construction industry disputes."
Construction Law
* many construction contracts result in legal disputes
* considerable interest in ADR at present with adjudication endorsed by the Housing Grants, Construction and Regeneration Act
* Featuring the new adjudication clauses of revised standard construction contracts