AIChE Equipment Testing Procedure - Particle Size Classifiers, 2nd Edition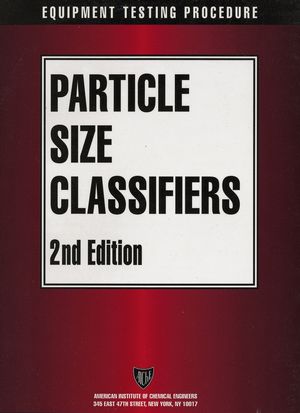 AIChE Equipment Testing Procedure - Particle Size Classifiers, 2nd Edition
ISBN: 978-0-470-93829-4
Sep 2010
64 pages
Description
This procedure offers complete methodologies for sampling and measuring particle streams and summarizes methods of particle size analysis. It also lists operating variables to be considered and measured. Although the procedure is intended specifically for particle classification equipment, many of the items are also relevant to particle collection devices.
How to Use This Procedure.
100.0 Purpose and Scope.
101.0 Purpose.
102.0 Scope.
200.0 Definitions and Descriptions of Terms.
201.0 Classification.
202.0 Particle Size.
203.0 Particle Size Distribution.
204.0 Particle Size Analysis.
205.0 Classification Criteria.
206.0 Dispersion.
300.0 Test Planning.
301.0 Objective of Testing Classifiers.
302.0 Testing Instructions.
303.0 Factors and Conditions to be Recorded.
304.0 Safety and Environmental Precautions.
400.0 Instruments and methods of Measurement.
401.0 Introduction.
402.0 Particulate Sampling.
403.0 Size Analysis Methods.
500.0 Test Procedure.
501.0 Introduction.
502.0 Method of Feeding.
503.0 Duration of Test Period.
504.0 Method of Measuring Flow Rates.
505.0 Methods of Sampling and Subdividing Samples for Analysis.
506.0 Dispersion of Particles.
507.0 Method of Particle Size Analysis.
508.0 Statistical Control of Precision and Accuracy.
509.0 Test Data to be Recorded.
510.0 Observations on Equipment Operability.
600.0 Computation of Results.
601.0 Intrinsic Classifier Performance.
602.0 Overall Classifier Performance.
603.0 Other Measures of Classifier Performance.
700.0 Interpretation of Results.
701.0 Introduction.
702.0 Operating Conditions.
703.0 Size Selectivity Curves.
800.0 Appendices.
801.0 Notation.
802.0 Sample Calculation.
803.0 References.
804.0 Index.