AIDS, Sex, and Culture: Global Politics and Survival in Southern Africa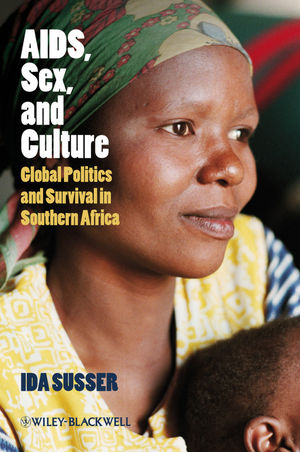 AIDS, Sex, and Culture: Global Politics and Survival in Southern Africa
ISBN: 978-1-444-35910-7 September 2011 Wiley-Blackwell 304 Pages
Description
AIDS, Sex, and Culture is a revealing examination of the impact the AIDS epidemic in Africa has had on women, based on the author's own extensive ethnographic research.



based on the author's own story growing up in South Africa

looks at the impact of social conservatism in the US on AIDS prevention programs

discussion of the experiences of women in areas ranging from Durban in KwaZulu Natal to rural settlements in Namibia and Botswana

includes a chapter written by Sibongile Mkhize at the University of KwaZulu Natal who tells the story of her own family's struggle with AIDS
List of Figures vi
Preface – Southern Africa: A Personal Geography, History, and Politics viii
Acknowledgments xxi
Introduction: Global, Inequality, Women, and HIV/AIDS 1
1 The Culture of Science and the Feminization of HIV/AIDS 17
2 Imperial Moralities and Grassroots Realities 45
3 The Transition to a New South Africa: Hope, Science, and Democracy 65
4 Of Nevirapine and African Potatoes: Shifts in Public Discourse 91
5 The Difference in Pain: Infected and Affected 107
By Sibongile Mkhize
6 Contested Sexualities 118
7 Public Spaces of Women's Autonomy: Health Activism 139
8 "Where Are Our Condoms?" – Namibia 155
9 Ju/'hoansi Women in the Age of HIV: An Exceptional Case 171
10 Changing Times, Changing Strategies: Women Leaders Among the Ju 184
11 "The Power of Practical Thinking" – The Role of Organic Intellectuals 199
12 Conclusions: Neoliberalism, Gender, and Resistance 217
Notes 222
Bibliography 237
Index 264
"AIDS, Sex, and Culture
will make an excellent text for undergraduate and graduate courses in global health needing to enhance the quality of existing curricula. The many clinicians who have essential expertise to contribute to building health infrastructure but who do not have time to study the extensive social science literature on the less developed world will welcome this easy read."
(JAMA
, July 2010)
"AIDS activists and policy makers will be both impressed and ultimately heartened." (
CHOICE,
January 2010)"A brilliant analysis of sadness, deprivation and hope. A must-read for anyone interested in the social fabric of contemporary South Africa, for anyone committed to gender justice around AIDS."
Michael Burawoy, University of California, Berkeley
"AIDS, Sex, and Culture greatly deepens our understanding of the politics of HIV/AIDS in South Africa. Susser's rich ethnography shows how local activism and women's desire for autonomy profoundly affect international, national, and scientific enterprises."
Emily Martin, New York University
"Ida Susser´s book is an exemplary demonstration of the social value of great scholarly research. It shows how patriarchal culture provides the ground for the formation of destructive networks of poverty, sex, and aids. Based on Susser´s cross-cultural ethnographic work it is a master piece of intellectually innovative, socially relevant research. It will be a key reference for social scientists aiming to understand the world in order to overcome our current misery. It should be mandatory reading for students, academics, and policy makers around the world."
Manuel Castells, University of California, Berkeley
An insightful, comprehensive, provocative personal and anthropological perspective across two decades on how the construction of gender has shaped responses to the HIV/AIDS epidemic in women in southern Africa and globally.
A must read for anyone interested in understanding and making a meaningful difference to the evolving HIV epidemic in women globally and in southern Africa.
Quarraisha Abdool Karim, Centre for the AIDS Programme of Research in South Africa
Ida Susser offers a powerful statement of the forces that have shaped the epidemiology of AIDS in Africa. This visceral but unsentimental account places women's sexuality and reproductive autonomy -- as well as their unsubmissive assertion of rights to knowledge, health care, and bodily integrity --at the vortex of South Africa's transformations and is symptomatic of how gender inequities shape the face of AIDS in the world today.
Ann Stoler, The New School


based on the author's own story growing up in South Africa

looks at the impact of social conservatism in the US on AIDS prevention programs

discussion of the experiences of women in areas ranging from Durban in KwaZulu Natal to rural settlements in Namibia and Botswana

includes a chapter written by Sibongile Mkhize at the University of KwaZulu Natal who tells the story of her own family's struggle with AIDS