ALS Network+ Certification Package, 4th Edition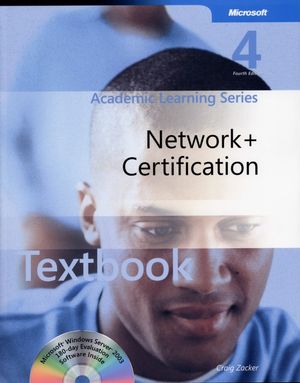 ALS Network+ Certification Package, 4th Edition
ISBN: 978-0-470-06763-5
Oct 2006
854 pages
Product not available for purchase
Description
Competency-based learning for the academic classroom.
This book is the foundation of a course that is structured around concepts and practical knowledge fundamental to this topic area.  In doing so, it also addresses the tasks that are covered in the objectives for the Comp TIA Network+ exam. 
Along with the textbook and lab manual, students get a Student CD-ROM containing study aids, an electronic version of the textbook, an eBook of the Microsoft Encyclopedia of Networking, Second Edition, and Microsoft PowerPoint slides based on textbook chapters, to assist with note-taking.
An Instructor CD-ROM containing a complete set of instructor support materials—including lecture outlines, teaching tips, PowerPoint® slides, a test bank, and detailed lab set-up instructions—is also available.
In conjunction with A+, Network+ may be used as a substitute for your MCSA program's elective course requirement.
CHAPTER 1: Networking Basics 1
CHAPTER 2: Network Cabling 39
CHAPTER 3: Network Connection Hardware 93
CHAPTER 4: Data-Link Layer Protocols 143
CHAPTER 5: Network Layer Protocols 191
CHAPTER 6: Transport Layer Protocols 239
CHAPTER 7: TCP/IP 267
CHAPTER 8: Networking Software 339
CHAPTER 9: Network Security and Availability 413
CHAPTER 10: Remote Network Access 471
CHAPTER 11: Network Troubleshooting Tools 503
CHAPTER 12: Network Troubleshooting Procedures 553
Competency Based: Emphasizes learning by doing. The book contains exercises designed to give students plenty of hands-on opportunity to practice the skills needed to set up a secure and reliable network infrastructure. The lab manual shrink-wrapped with the book provides an opportunity to explore both hardware and software configurations giving the student valuable experience and skills required of an entry level computer professional.

Complete Learning Program: Delivers everything the student needs to learn how to do the job and prepare for the Comp TIA Network+ exam. Written in a clear and straightforward manner, the textbook contains numerous learning aids designed to help the student master the material:
Tips explaining possible results or alternative methods
Important notations with information that is essential to completing a task
Notes containing supplemental information
Cautions containing warnings about potential problems to look out for

Complete Instructor Support Program: Instructor CD accompanies the book with a complete set of teaching aids:
Model Course Description
Alternate course syllabi
Lecture outlines imbedded with teaching tips and suggestions for using PowerPoint slides
PowerPoint slides
Course pre-test
Test bank containing true false, multiple choice, short answer and scenario based questions
Brownstone Diploma testing and classroom management software
On-line Instructor Resource Center containing all instructor aids, monthly teaching tip and ideas updates, a download center, links to major academic shows attended by Microsoft and a Microsoft technology in the news center.