ASAE Handbook of Professional Practices in Association Management, 3rd Edition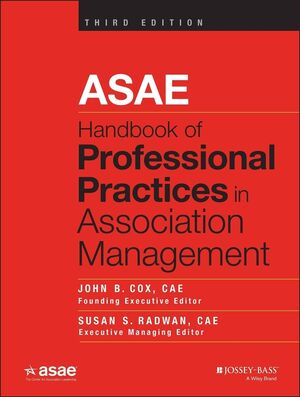 ASAE Handbook of Professional Practices in Association Management, 3rd Edition
ISBN: 978-1-118-93498-2 December 2014 Jossey-Bass 672 Pages
Description
A new edition of one of the flagship books for CAE preparation
The ASAE Handbook of Professional Practices in Association Management covers the core functions of association management at a high but practical level, making it a go-to resource for professionals who are leading and managing membership organizations and those preparing for the Certified Association Executive (CAE) credential. Now in its third edition, this core text in the ASAE association literature offers practical, experience-based insights, strategies, and techniques for managing every aspect of an association or membership organization.
Organized into 35 chapters and presenting information based on experience and proven research into the skills and knowledge required for successfully managing an organization of any size, this book covers governance and structure, leadership processes, management and administration (including finance and human resources), internal and external relations, programs and services, and much more. This new edition incorporates increased emphasis on the c-level judgment required of Certified Association Executives and CEO-aspirants, as well as more comprehensive coverage of essential functions such as planning.
Covers the range of functions essential to managing an association
Serves as a flagship handbook for CAE prep and is one of only five designated "CAE Core Resources"; new edition is applicable to prep beginning with the May 2015 CAE exam
Information is relevant and applicable to students and professionals alike
Edited by the founding editor of Professional Practices in Association Management and a CAE instructor with more than 30 years of experience in preparing CAEs
Put the experts to work for you with this essential resource—written by association professionals and experts with 300 years of cumulative experience!
Preface xi
John B. Cox, FASAE, CAE
Acknowledgments xv
1 A PRESCRIPTION FOR A SUCCESSFUL CSE 1
Cheryl O. Ronk, CMP, FASAE, CAE, and Susan S. Radwan, SMP, ARM, CAE
2 MISSION 15
Kerry C. Stackpole, FASAE, CAE
3 MANAGEMENT 29
Mark Engle, DM, FASAE, CAE
4 MANAGING THE COMPLEX ASSOCIATION ENTERPRISE 51
Gary A. LaBranche, FASAE, CAE
5 BUSINESS MODELS AND ECONOMIC DRIVERS 71
Paul Pomerantz, FASAE, CAE
6 IDENTITY AND BRANDING 83
Mark N. Dorsey, FASAE, CAE
7 FINANCIAL MANAGEMENT 101
Rob Batarla, MBA, CPA, CAE
8 GLOBALIZATION 117
Dick Blatt and Donna Hasslinger
Tips from Those Who Know: A Non-U.S.-Based View from Field Experience 121
Alfons Westgeest and Dani Kolb
The Planning Continuum 135
Susan S. Radwan, SMP, ARM, CAE
9 ENVIRONMENTAL SCANNING AND FUTURES ANALYSIS 139
Bruce Butterfield, APR, FASAE
10 ENVIRONMENTAL SCANNING 153
Susan E. Avery, CAE
11 STRATEGIC PLANNING 163
Robert H. Rich, PhD, CAE
Strategic Planning from a CSE Viewpoint 171
Mark W. Light, CAE
12 HIGH-YIELD TACTICAL PLANNING 175
John B. Cox, FASAE, CAE
13 BUSINESS PLANNING 189
Brian Birch, CAE, and Susan S. Radwan, SMP, ARM, CAE
Governance: An Introduction 203
Beth Gazley, PhD
14 GOVERNANCE STRUCTURES, PROCESS, AND CULTURE 207
Christine McEntee, FASAE
15 GOVERNANCE RELATIONSHIPS 223
Richard Yep, CAE, FASAE
Collaborative Leadership in Governance 225
Gabriel Eckert, CAE
16 VOLUNTEER LEADERSHIP DEVELOPMENT 239
Holly Duckworth, CMP, CAE
A Critical Understanding 240
A Solution to Succession Planning 254
Susan S. Radwan, SMP, ARM, CAE
17 COMPONENT RELATIONS 257
Lowell M. Aplebaum, CAE
Case Study: Organizational Reviews and Strategic Planning for State Associations 263
Luis A. Rivera, MBA, CAE
18 MEMBERSHIP RECRUITMENT AND RETENTION 275
Jay L. Karen, CAE
19 STANDARD SETTING 289
Dorothy I. Mitstifer, PhD
20 LEGAL ISSUES IN ASSOCIATION STANDARD SETTING, CERTIFICATION AND ACCREDITATION PROGRAMS, AND CODES OF ETHICS 303
Jeffrey S. Tenenbaum, Esq., and Beth A. Caseman, Esq.
21 DEVELOPING AND MANAGING PROGRAMS, PRODUCTS, AND SERVICES 321
Mariah Burton Nelson, MPH, CAE
22 FUNDRAISING AND DEVELOPMENT 337
Todd Wurschmidt, PhD, CFRE, FASAE, CAE, and Erin M. Fuller, MPA, FASAE, CAE
Margin of Excellence: Why Fundraising Is Important for Associations 339
Paulette V. Maehara, CFRE, CAE (ret.)
Legal Aspects of Association Fundraising 341
Jeffrey S. Tenenbaum, Esq., and Kristalyn Loson, Esq.
23 MEETING AND EVENT MANAGEMENT 353
Dawn M. Mancuso, MAM, FASAE, CAE, and Natasha J. Ross, CMP
24 CERTIFICATION PRINCIPLES 371
B. Denise Roosendaal, CAE, and Anjali Weber
Consider Accrediting Your Organization 382
Melissa Sines
25 AFFINITY PROGRAMS 389
Susan Moseley, CAE
26 OPTIMIZING PROFESSIONAL DEVELOPMENT 405
Donald R. Levy, MEd
27 STRATEGIC LEADERSHIP 429
Barbara Byrd Keenan, FASAE, CAE
28 DIVERSITY AND INCLUSION 445
Velma R. Hart, FASAE, CAE, and D. A. Abrams, CAE
29 HUMAN RESOURCE MANAGEMENT 461
Matthew Gertzog, MBA, FASAE, CAE
30 INTEGRAL TECHNOLOGY MANAGEMENT 479
Steve DeHaan, CAE
31 LEGAL ISSUES 491
Jefferson C. Glassie, JD
32 LEGAL LIABILITY RISK MANAGEMENT 503
Jeffrey P. Altman, JD
Protecting Your Organization Through Careful Risk Review 513
P. Allen Haney, CPCU, CLU, ChFC, CASL, ChHC, FASAE
33 FACILITY MANAGEMENT 521
Mike Moss, CAE
34 BUILDING EFFECTIVE INDUSTRY SUPPLIER PARTNERSHIPS 539
Brian Stevens, FASAE, and Gregg Balko, FASAE, CAE
35 KNOWLEDGE MANAGEMENT 549
Richard V. Lawson and Robert C. Nedbal
36 RESEARCH AND EVALUATION 565
Marc Beebe, CAE, and Elena Gerstmann, PhD, FASAE, CAE
37 GOVERNMENT RELATIONS, PUBLIC POLICY, AND COALITION BUILDING 581
Stefanie Reeves, MA, CAE
38 MARKETING AND COMMUNICATIONS 597
Tom Quash, CAE
39 PUBLISHING AND MEDIA 613
Debra J. Stratton and Angela Hickman Brady
Digital Disruption: A Survival Guide 625
Julie Shoop
Index 631