ASP, ADO, and XML Complete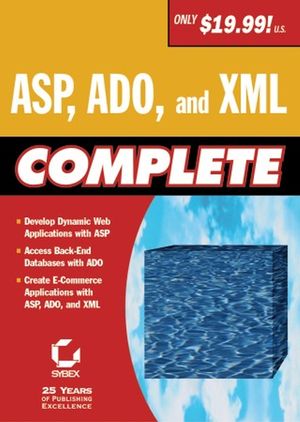 ASP, ADO, and XML Complete
ISBN: 978-0-782-12971-7
Aug 2001
1012 pages
Product not available for purchase
Description
ASP, ADO, and XML Complete is a one-of-a-kind computer book--valuable both for its extensive content and its low price. This book contains a wealth of vital information for any developer in need of a complete reference to the most essential technologies used for Web programming on the Windows platform.
ASP, ADO, and XML Complete not only covers the fundamentals of scripting and ASP but it also highlights database development with ADO and SQL Server, client-side scripting, building your own components, using XML with ASP, implementing e-commerce with Microsoft BizTalk server, and building your own online store.
ASP, ADO, and XML Complete introduces you to the work of some of Sybex's finest authors, so you'll know where to turn when you want to learn even more about key Web development topics.
Introduction.
Part i Programming Essentials.
Chapter 1: The Microsoft Toolset.
Chapter 2: Visual Basic and the Web.
Chapter 3: Web Applications and ASP.
Chapter 4: Introduction to VBScript.
Chapter 5: Introduction to JScript.
Part ii: Beginning ASP.
Chapter 6: IIS Applications.
Chapter 7: Introduction to ASP Applications.
Chapter 8: Building ASP Applications.
Chapter 9: State Maintenance in ASP Applications.
Chapter 10: Sample Application.
Part iii: Database Development.
Chapter 11: Database Access: Architectures and Technologies.
Chapter 12: Basic Concepts of Relational Databases.
Chapter 13: Introduction to Relational Databases and SQL.
Chapter 14: Exploring Data from Visual Basic.
Chapter 15: ADO 2.5 for Web Developers.
Part iv: Advanced ASP and WebClasses.
Chapter 16: Client-Side Scripting.
Chapter 17: Building Your Own Components.
Chapter 18: Planning Applications.
Part v: XML.
Chapter 19: Using XML/XSL with ASP.
Chapter 20: XML and ASP.
Chapter 21: XML and MS Databases.
Chapter 22: E-Commerce with MS BizTalk.
Part vi: Building Real-World Web Applications.
Chapter 23: Building the User Interface.
Chapter 24: Making a Basket Case.
Chapter 25: On Sale.
Chapter 26: Discussion Forums.
Index.
Bonus Chapter: Chapter 26: Discussion Forums (continued)

Download
Download Code
Download a .zip file with the all code from the book.
To uncompress the file, Windows users can use Windows built-in ZIP utilities or a 3rd party utility like WinZip or WinRAR. Macintosh users can simply double-click the downloaded file to extract using the built-in archive utility.
Download
Chapter
Page
Details
Date
Print Run
Combined Errata


Page 81

On Page 81, explaining the "select case" statement, "end if" is used to close the statement. This should be "End Select".

Page 210

Chap. 8, references a .MDB version of the PUBS database that can be found on the Sybex web site at http://www.sybex.com/sybexbooks.nsf/AdditionalContent/2557OldDownload?OpenDocument

Page 781

Wild Willie files - See Chapter 23 download files from the book page. As you work through chapter 23 all of the separate files make up the project.




---