ASP.NET 2.0 Instant Results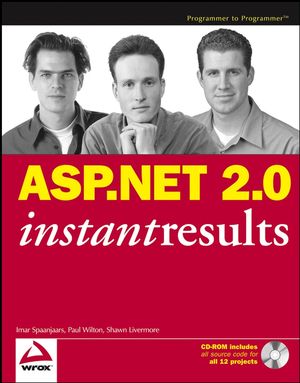 ASP.NET 2.0 Instant Results
ISBN: 978-0-471-74951-6
Mar 2006
480 pages
Product not available for purchase
Description
ASP.NET 2.0 Instant Results helps you quickly create dynamic Web pages with ASP.NET 2.0. The book is centered around a dozen ready-to-use projects with all the code for all the projects included on the books CD-ROM - that you can use immediately. ASP.NET 2.0 Instant Results dives into working code so you can learn it rapidly. The book and projects are written for intermediate-level programmers with some .NET experience. The projects and book provide a quick start reference so you can use ASP.NET 2.0 immediately.

Each of the 12 project features step-by-step set-up instructions with a description of each project that enables you to understand and then modify it so you can reuse it in different situations.

The 12 projects covered in the book with complete source-code on the CD are:
Online diary and organizer
File share
Chat server
Survey engine
CMS
Blog
Photo album
Customer support site
WebShop
Appointment booking system
Greeting cards
Bug base
Note: CD-ROM/DVD and other supplementary materials are not included as part of eBook file.
Acknowledgments.
Introduction.
Chapter 1: The Online Diary and Organizer.
Chapter 2: Wrox File Share.
Chapter 3: Wrox Chat Server.
Chapter 4: Wrox Survey Engine.
Chapter 5: Wrox CMS.
Chapter 6: Wrox Blog.
Chapter 7: Wrox Photo Album.
Chapter 8: Customer Support Site.
Chapter 9: Wrox WebShop.
Chapter 10: Appointment Booking System.
Chapter 11: Greeting Cards.
Chapter 12: The Bug Base.
Index.
Code Downloads

Code Downloads
Code downloads for this title are available here.
Code Downloads

Download
Code Downloads
Code downloads for this title are available here.
Download
Download Code for Chapter 1 - Online Diary
Download a .zip file with the installer for the Chapter 1 working project code, the project source code, and a modified version of the source code to match the bonus content download walkthrough modifications.

To uncompress the file, Windows users can use Windows built-in ZIP utilities or a 3rd party utility like WinZip or WinRAR. Macintosh users can simply double-click the downloaded file to extract using the built-in archive utility.

Download
Download Code for Chapter 2 - File Share Install
Download a .zip file with the installer for Chapter 02.

To uncompress the file, Windows users can use Windows built-in ZIP utilities or a 3rd party utility like WinZip or WinRAR. Macintosh users can simply double-click the downloaded file to extract using the built-in archive utility.

Download
Download Code for Chapter 2 - File Share Source
Download a .zip file with the Chapter 2 project source code.

To uncompress the file, Windows users can use Windows built-in ZIP utilities or a 3rd party utility like WinZip or WinRAR. Macintosh users can simply double-click the downloaded file to extract using the built-in archive utility.

Download
Download Code for Chapter 2 - File Share Source with Enhancement
Download a .zip file with the working project code for Chapter 02 modified to match the Chapter 2 bonus content download walkthrough.

To uncompress the file, Windows users can use Windows built-in ZIP utilities or a 3rd party utility like WinZip or WinRAR. Macintosh users can simply double-click the downloaded file to extract using the built-in archive utility.

Download
Download Code for Chapter 3 - Chat Server
Download a .zip file with the installer for the Chapter 3 working project code, the project source code, and a modified version of the source code to match the bonus content download walkthrough modifications.

To uncompress the file, Windows users can use Windows built-in ZIP utilities or a 3rd party utility like WinZip or WinRAR. Macintosh users can simply double-click the downloaded file to extract using the built-in archive utility.

Download
Download Code for Chapter 4 - Wrox Survey Engine
Download a .zip file with the installer for the Chapter 4 working project code and a modified version of the source code to match the bonus content download walkthrough modifications.

To uncompress the file, Windows users can use Windows built-in ZIP utilities or a 3rd party utility like WinZip or WinRAR. Macintosh users can simply double-click the downloaded file to extract using the built-in archive utility.

Download
Download Code for Chapter 4 - Wrox Survey Engine Source
Download a .zip file with the project source code for Chapter 04.

To uncompress the file, Windows users can use Windows built-in ZIP utilities or a 3rd party utility like WinZip or WinRAR. Macintosh users can simply double-click the downloaded file to extract using the built-in archive utility.

Download
Download Code for Chapter 5 - Wrox CMS
Download a .zip file with the installer for the Chapter 5 working project code, the project source code, and a modified version of the source code to match the bonus content download walkthrough modifications.

To uncompress the file, Windows users can use Windows built-in ZIP utilities or a 3rd party utility like WinZip or WinRAR. Macintosh users can simply double-click the downloaded file to extract using the built-in archive utility.

Download
Download Code for Chapter 5 - Wrox CMS Update


This zip file contains an updated version of the CMS database and the web.config file for the chapter 5 CMS application. Copy these files over the copy the existing ones from the CD or the main chapter 5 download to fix a login problem with the CMS application.

Download
Download Code for Chapter 6 - Wrox Blog
Download a .zip file with the installer for the Chapter 6 working project code, the project source code, and a modified version of the source code to match the bonus content download walkthrough modifications.

To uncompress the file, Windows users can use Windows built-in ZIP utilities or a 3rd party utility like WinZip or WinRAR. Macintosh users can simply double-click the downloaded file to extract using the built-in archive utility.

Download
Download Code for Chapter 7 - Wrox Photo Album
Download a .zip file with the installer for the Chapter 7 working project code and a modified version of the source code to match the bonus content download walkthrough modifications.

To uncompress the file, Windows users can use Windows built-in ZIP utilities or a 3rd party utility like WinZip or WinRAR. Macintosh users can simply double-click the downloaded file to extract using the built-in archive utility.

Download
Download Code for Chapter 7- Wrox Photo Album Source
Download a .zip file with the project source code for Chapter 07.

To uncompress the file, Windows users can use Windows built-in ZIP utilities or a 3rd party utility like WinZip or WinRAR. Macintosh users can simply double-click the downloaded file to extract using the built-in archive utility.

Download
Download C# Code for Chapter 7- Wrox Photo Album Source
Unsupported! Download a .zip file with the project source code in C# for Chapter 07. This code is provided by a user, not Wrox, and is available "as-is" with no official support from Wrox.
Download
Download Code for Chapter 8 - Customer Support Site
Download a .zip file with the installer for the Chapter 8 working project code, the project source code, and a modified version of the source code to match the bonus content download walkthrough modifications.

To uncompress the file, Windows users can use Windows built-in ZIP utilities or a 3rd party utility like WinZip or WinRAR. Macintosh users can simply double-click the downloaded file to extract using the built-in archive utility.

Download
Download Code for Chapter 9 - Wrox WebShop
Download a .zip file with the installer for the Chapter 9 working project code, the project source code, and a modified version of the source code to match the bonus content download walkthrough modifications.

To uncompress the file, Windows users can use Windows built-in ZIP utilities or a 3rd party utility like WinZip or WinRAR. Macintosh users can simply double-click the downloaded file to extract using the built-in archive utility.

Download
Download Code for Chapter 10 - Appointment Booking
Download a .zip file with the installer for the Chapter 10 working project code, the project source code, and a modified version of the source code to match the bonus content download walkthrough modifications.

To uncompress the file, Windows users can use Windows built-in ZIP utilities or a 3rd party utility like WinZip or WinRAR. Macintosh users can simply double-click the downloaded file to extract using the built-in archive utility.

Download
Download Code for Chapter 11 - Greeting Cards
Download a .zip file with the installer for the Chapter 11 working project code, the project source code, and a modified version of the source code to match the bonus content download walkthrough modifications.

To uncompress the file, Windows users can use Windows built-in ZIP utilities or a 3rd party utility like WinZip or WinRAR. Macintosh users can simply double-click the downloaded file to extract using the built-in archive utility.

Download
Download Code for Chapter 12 - The Bug Base
Download a .zip file with the installer for the Chapter 12 working project code, the project source code, and a modified version of the source code to match the bonus content download walkthrough modifications.

To uncompress the file, Windows users can use Windows built-in ZIP utilities or a 3rd party utility like WinZip or WinRAR. Macintosh users can simply double-click the downloaded file to extract using the built-in archive utility.

Download
Chapter
Page
Details
Date
Print Run
Chapter 4
Website Errata Online,Chapter 4 – Survey Engine
Issue: Corrupt database in the code download

There is a problem with the database that comes with the code download, as it contains an out-dated stored procedure. When you try to login to the site, you get a nasty IndexOutOfRangeExceptionexception.

To fix this problem, follow these steps:

Delete the ASPNETDB database from the App_Data folder (both the MDF and LDF files)

Open the site in your browser (Ctrl+F5 in Visual Web Developer) and try to login in. This will fail, but a new ASPNETDB database has been created automatically in the App_Data folder.

Run the Website Administration Tool (choose Website | ASP.NET Configuration) and create a new role called Admin. Next, create a new user called Admin (choose your own password) and assign this user to the new role.

Open the site in your browser again. You should now be able to login with the account created in step 3.
7/27/06
5
Chapter 5 code updated,

Chapter 5 - To correct a login problem with the CMS application, please see the download page for a zip file containing an update for 3 files in the application.

7-20-2006
Chapter 5 Code Replacement,Chapter 5 – CMS
Issue – Database in the code download has incorrect information about the application

The database that comes with the code download has incorrect information about the application and its users. An updated database has been made available in the code download page for this book.

This zip file contains an updated version of the CMS database and the web.config file for the chapter 5 CMS application. Copy these files over the copy the existing ones from the CD or the main chapter 5 download to fix a login problem with the CMS application.
7/27/06
5
Chapter 5 Section Error,Issue: Problem with deleting content

There is a problem with the Management section of the CMS site, similar to the problem in the Customer Support site. In the Management section, you can no longer delete a content item. You do get the confirmation dialog, but after that the page doesn't post back and the item is never deleted. The reason for this problem is that the ASP.NET run-time has changed the button from input type="submit" to input type="button". With the confirmation dialog added to this button, it no longer automatically submits to the server. The fix is easy. The next steps describe how to fix the ContentList page:

Open the ContentList.aspx page from the Management folder in Design View.

Open the Smart Task of the GridView and choose Edit Columns.

Locate the Delete column and convert it to a template by clicking the blue link at the bottom of the dialog. You should end up with something like this:

<asp:TemplateField HeaderText= Delete ShowHeader= False >
<ItemStyle Width= 75px />
<HeaderStyle HorizontalAlign= Left />
<ItemTemplate>
<asp:Button ID= Button1 runat= server
CausesValidation= false CommandName= Delete
Text= Delete />
</ItemTemplate>
</asp:TemplateField>

Modify the code so you end up with this:

<asp:TemplateField HeaderText= Delete ShowHeader= False >
<ItemStyle Width= 75px />
<HeaderStyle HorizontalAlign= Left />
<ItemTemplate>
<asp:Button ID= Button1 runat= server
CausesValidation= False
CommandName= Delete Text= Delete
OnClientClick= return confirm('Are you sure you want to
delete this content item?');
/>
</ItemTemplate>
</asp:TemplateField>