ASP.NET Website Programming: Problem - Design - Solution, C# Edition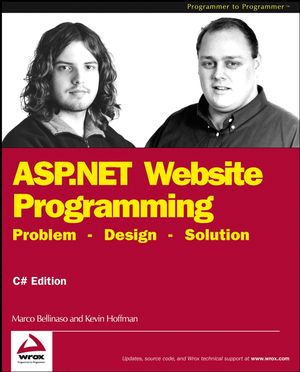 ASP.NET Website Programming: Problem - Design - Solution, C# Edition
ISBN: 978-0-764-54377-7
Mar 2002
576 pages
Product not available for purchase
Description
What is this book about?
ASP.NET Website Programming shows you how to build an interactive website from design to deployment.
Packed with solutions to website programming problems, this book will have you building well-engineered, extendable ASP.NET websites quickly and easily.
What does this book cover?
In this book, you will learn how to
Establish a solid, scalable website foundation
Provide flexible user accounts integrating with ASP.NET's built-in security
Create message forums that enable formatted messages but defend against cross-site scripting
Generate revenue from advertising
Build a web interface for uploading, downloading, editing, and managing the files on your site
Add opinion polls, email newsletters, and news management
Deploy the finished site on a live server
Build websites using good, n-tier coding techniques
The site we build is modular. You can slot the modules into your own website, modify them, or use them as examples of particular ASP.NET techniques.
Who is this book for?

This book is for developers who
Use ASP.NET and C#
Use Visual Studio .NET Professional or above, or Visual C# .NET Standard
Want to build content-based websites
Introduction.
Chapter 1. Building an ASP.NET Website.
Chapter 2. Foundations.
Chapter 3. Foundations for Style and Navigation.
Chapter 4. Maintaining the Site.
Chapter 5. Users and Authentication.
Chapter 6. News Management.
Chapter 7. Advertising.
Chapter 8. Polls.
Chapter 9. Mailing Lists.
Chapter 10. Forums and Online Communities.
Chapter 11. Deploying the Site.
Chapter 12. The End.
Index.
Chapter
Page
Details
Date
Print Run
33
Strong Name command ,

The line 'SN -K ThePhile.SNK' should read 'SN -k ThePhile.SNK'. The 'k' should be lower-case.

08-Nov-02
1
2
40
The BizObject Class ,

The text specifies that the BizObject class is of course, abstract and public. The code below declares it as public but not abstract. This would allow code to instantiate a BizObject object directly, which should not be allowed. So it should be declared as public abstract class BizObject.

24-Jan-03
1
3
58
The PhilePageBase mystery ,

Page 58 refers to a class library called PhilePageBase, which supposedly contains the PhilePage class. In fact, this class does not go in a class libarary of its one -- it goes straight in the main ThePhile project. The other details -- class name, namespace, and so on -- are correct in the book.

08-Mar-03
1
3
61
""Controls"" project mystery ,

The final paragraph of page 61 refers to a C# class library, called Controls . This class library does not exist in the sample code. Instead, the files are located in a folder called Controls within the ThePhile project.

20-Jan-03
1
4
85
Remove the InitializeComponent() method ,

The InitializeComponent() method was autogenerated by a pre-release version of Visual Studio .NET, and should not be included.

30-Jan-03
1
253
Wrong screenshot ,

The image on page 253 is wrong, and has nothing to do with the text surrounding it. Please ignore it.

20-Nov-02
1
Additional downloads available for VB.NET Edition of this title,

See the Downloads section of ASP.NET Website Programming: Problem - Design - Solution, Visual Basic .NET Edition (0764543865) for downloadable files relevant to this title.