ASP.NET in 60 Minutes a Day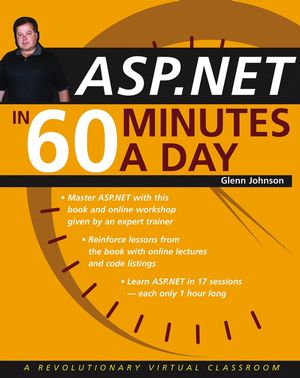 ASP.NET in 60 Minutes a Day
ISBN: 978-0-471-48104-1
Aug 2003
720 pages
Product not available for purchase
Description
Introduces Microsoft's widely-used, free Web development tool to new users and to those preparing for certification
Includes thirty one-hour lessons that recreate a typical week-long introductory seminar
Gets readers quickly up-to-speed on using ASP.NET and Web Matrix to develop Web pages and Web services
The author has taught ASP.NET and other Microsoft tools for Xerox Connect and other major corporations
Companion Web site features an online presentation by the author that follows along with each chapter and includes an audio-only option for readers with dial-up Internet connection
Acknowledgments.
About the Author.
Introduction.
Chapter 1: Introducing ASP.NET.
Chapter 2: Solutions, Projects, and the Visual Studio .NET IDE.
Chapter 3: Exploring ASP.NET and Web Forms.
Chapter 4: The .NET Framework and Visual Basic .NET Object Programming.
Chapter 5: Working with Web Server Controls.
Chapter 6: Using Data-Bound Web Controls.
Chapter 7: Building User Controls and Custom Web Controls.
Chapter 8: Data Access with ADO.NET.
Chapter 9: Working with XML Data.
Chapter 10: Streams, File Access, and Serialization.
Chapter 11: Working with GDI+ and Images.
Chapter 12: ASP.NET Applications.
Chapter 13: Site Security.
Chapter 14: Performance Tuning and Application Instrumentation.
Chapter 15: Building and Versioning .NET Components.
Chapter 16: Creating Web Services.
Chapter 17: Deployment and Migration.
Appendix A.
Index.
The downloads
Start training now or go to the chapter code samples and lab solutions on the download page. The downloads contain the sample code that is defined in the book, the lab starter and lab solution. The sample code is presented as files with a .txt extension, which will allow you to easily copy and paste the code into your Visual Studio .NET page. The lab starter and solution is presented as a folder structure that can be unzipped and used.