Abdominal Aortic Aneurysm: Genetics, Pathophysiology, and Molecular Biology, Volume 1085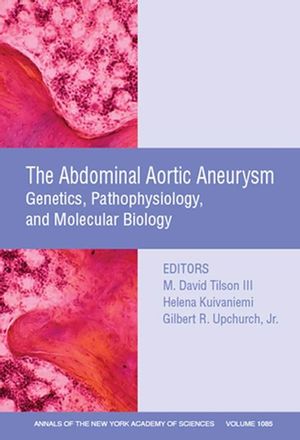 Abdominal Aortic Aneurysm: Genetics, Pathophysiology, and Molecular Biology, Volume 1085
ISBN: 978-1-573-31657-6 November 2006 Wiley-Blackwell 352 Pages
Description
An increase in incidence of abdominal aortic aneurysm is predicted as an extension of the advancing age of our population. Novel strategies for treatment and prevention need to be considered. Interdisciplinary approaches to this disease will aid in prevention and treatment. This volume will integrate new insights into the etiology and pathology of aneurismal disease, including physiologic and genetic causes.


Several educational objectives have been met in this volume. The contributors assess the benefits of risk of rupture assessment at different ages and thresholds of abdominal aortic aneurysm in the context of epidemiologic studies, examine the use of animal models in the study of abdominal aortic aneurysm and its underlying pathobiology, and integrate data on susceptibility and genetic causes of abdominal aortic aneurysms.


The increase in abdominal aortic aneurysms (AAA) is viewed from the perspective of epidemiology, and initiatives to prevent death from rupture are discussed. Animal models and their relevance to pathophysiology and prevention are also presented, and the interventional pharmacology is also considered from the perspective of enzymology.


In addition, chapters covering the biological aspects of the endovascular devices used to repair abdominal aortic aneurysm and the molecular biology and immunology in abdominal aortic aneurysm are included.


NOTE: Annals volumes are available for sale as individual books or as a journal. For information on institutional journal subscriptions, please visit www.blackwellpublishing.com/nyas.

ACADEMY MEMBERS: Please contact the New York Academy of Sciences directly to place your order (www.nyas.org). Members of the New York Academy of Science receive full-text access to the Annals online and discounts on print volumes. Please visit http://www.nyas.org/MemberCenter/Join.aspx for more information about becoming a member
Introduction: M. David Tilson, MD.
Keynote Remarks: Challenges and Opportunities in Abdominal Aortic Aneurysms Research: Momtaz Wassef, PhD.
Part I: Epidemiology and Initiatives to Prevent Death from Rupture:.
1. Epidemiology of Aortic Aneurysm Repair in the United States from 1993 to 2003: Gilbert R. Upchurch, Jr., MD.
2. A Biomechanics-Based Rupture Potential Index for Abdominal Aortic Aneurysm Risk Assessment: Demonstrative Application: David Vorp, PhD.
3. Long-term Relationship of Wall Stress to the Natural History of AAAs (Finite Element Analysis and Other Methods): Mark F. Fillinger, MD.
4. A Summary of the Contributions of the VA Cooperative Studies on Abdominal Aortic Aneurysms: Frank Lederle, MD.
5. Pharmacological Approaches to Prevent AAA Enlargement and Rupture: Tim Baxter, MD.
6. Should Usual Criteria for Intervention in Abdominal Aortic Aneurysms be "Downsized" Considering Reported Risk-Reduction With Endovascular Repair?: Marc Schermerhorn, MD.
Part II: Animal Models: Pathophysiology and Biomechanical Aspects:.
7. Pathophysiology of Abdominal Aortic Aneurysms:Insights from the Elastase-Induced Model in Mice with Different Genetic Backgrounds: Robert Thompson, MD, FACS.
8. Regression of Abdominal Aortic Aneurysm by Inhibition of c-Jun N-Terminal Kinase in Mice: Koichi Yoshimura, MD, PhD.
9. Role of the Renin-Angiotensin System in the Development of Abdominal Aortic Aneurysms in Animals and Humans: Alan Daugherty, MD, PhD.
10. AAA Disease: Mechanism, Stratification and Treatment: Ronald L. Dalman MD.
11. Refinements in Mathematical Models to Predict Aneurysm Growth and Rupture: Ramon Berguer, MD, PhD.
Part III: Enzymology - Another Approach to Interventional Pharmacology:.
12. AAA – A complex Multifactorial Disease: Interactions of Polymorphisms of Inflammatory Genes, Features of Autoimmunity, and Current Status of MMPs: William Pearce, MD.
13. The Intraluminal Thrombus as a Source of Proteolytic Activity: Jesper Swedenborg, MD, PhD.
14. Activators of Plasminogen and the Progression of Small Abdominal Aortic Aneurysms: Jes Lindholt, MD, PhD.
15. Is There a Role for Macrophage 5-Lipoxygenase Pathway in Aortic Aneurysm Development in Apolipoprotein E Deficient Mice?: Colin Funk, PhD.
16. Do Cathepsins Play a Role in AAA Pathogenesis?: Galina K. Sukhova, PhD.
17. MMP-2: The Forgotten Enzyme in Aneurysm Pathogenesis: Gillian W Cockerill PhD.
Part IV: Biological Aspects of Endovascular Devices to Repair AAA:.
18. Current Status of Endovascular Repair of Infrarenal Abdominal Aortic Aneurysms in the Context of 50 Years of Conventional Repair: Norman R. Hertzer, MD.
19. Animal Models of Endovascular AAA Repair: Peter Faries, MD, FACS.
20. Aortic Aneurysm, Thoracoabdominal Aneurysm, Juxtarenal Aneurysm, Fenestrated Endografts, Branched Endografts, Endovascular Aneurysm Repair: Roy Greenberg, MD.
21. Vibrometry: A Novel Non-invasive Application of Ultrasonographic Physics to Estimate\Wall Stress in Native Aneurysms: Gautam Agarwal, MD.
22. Combining Open and Endovascular Approaches to Complex Aneurysms: Scott A. LeMaire, MD.
23. Engineering Improvements in Endovascular Devices: Design and Validation: David M. Williams, MD.
Part V: Genetics and Immunology in AAA:.
24. The Abdominal Aortic Aneurysm (AAA) is a Specific Antigen-driven T-cell Disease: Chris D. Platsoucas, PhD.
25. Genes predisposing to rapid aneurysm growth: Janet Powell, MD, PhD.
26. Genetic Basis of Thoracic Aortic Aneurysms and Dissections: Potential Relevance to.
Abdominal Aortic Aneurysms: Dianna Milewicz, MD, PhD.
27. Structural and Functional Genetic Disorders of the Great Vessels and Outflow Tracts: Craig Basson, MD, PhD.
28. Genome-wide approach to finding AAA susceptibility genes in humansa: Helena Kuivaniemi, MD, PhD.
29. The Candidate Gene Approach to Susceptibility for Abdominal Aortic Aneurysm (AAA): TIMP1, HLA-DR-15, Ferritin Light Chain, and Collagen XI-ALPHA-1: M. David Tilson, MD
?In Aortic Aneurysms, the authors offer a comprehensive summary of the ever-changing landscape of aneurysm treatment, with special attention given to aneurysms of the descending thoracic and abdominal aorta.? ( Electric Review , October 2009)