Abelard: A Medieval Life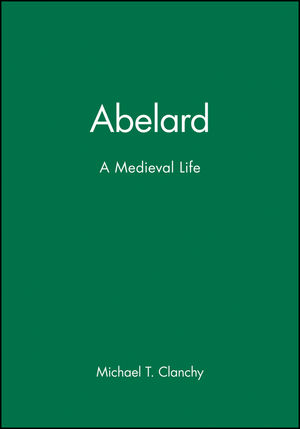 Abelard: A Medieval Life
ISBN: 978-0-631-21444-1 May 1999 Wiley-Blackwell 436 Pages
Download Product Flyer
Download Product Flyer
Download Product Flyer is to download PDF in new tab. This is a dummy description. Download Product Flyer is to download PDF in new tab. This is a dummy description. Download Product Flyer is to download PDF in new tab. This is a dummy description. Download Product Flyer is to download PDF in new tab. This is a dummy description.
Description
Michael Clanchy introduces the reader to medieval life through the experience of Peter Abelard, the master of the Paris schools.
Table of contents
Preface.
Map of France in Abelard's Time.
Map of Paris in Abelard's Time.
1. The Story of Abelard.
Part I: Scientia - 'Knowledge': Chronological Table 1079-1117.
2. Scientia - 'Knowledge'.
3. Literate.
4. Master.
5. Logician.
Part II: Experimentum - 'Experience': Chronological Table 1117-1118.
6. Experimentum - 'Experience'.
7. Knight.
8. Lover.
9. Man.
Part III: Religio - 'Religion': Chronological Table 1118-1142.
10. Religio - 'Religion'.
11. Monk.
12. Theologian.
13. Heretic. Conclusion.
14. Himself.
Who's Who.
Abbreviations used in the Notes to Chapters.
Notes to Chapters.
Suggestions for Further Reading.
Index.
Reviews
"This is one of the best books on medieval culture I have ever read, and I was so delighted by it I was sorry to get to the end and to have to put it down."
Norman F. Cantor, New York University
<!--end-->
"A great book, 'unique' like its hero" Jaques Le Goff, Ecole des Hautes Etudes en Science Sociales

"A crowning achievement of writing medieval history in our generation." John W. Baldwin, John Hopkins University

"Michael Clanchy's book will rank for some time as the best scholarly biography of Abelard. It is a compelling and convincing account that draws together the many disparate facets of the life of one of the most energetic minds and personalities of the twelfth century, or indeed of the Middle Ages." Times Literary Supplement

"It takes a touch of genius to bring a twelfth-century intellectual to life in this way." The English Historical Review

"The new biography by Michael Clanchy ... [is now] the standard historical study of Abelard's life. It is a work of great energy and insight ... It also provides analyses based on a thorough knowledge of Abelard and Abelard studies, that are as stimulating as they are provocative." The Medieval Review, August 1999

"Here is a fresh and central reconstruction of Abelard as a person, based on the research and text editions of previous decades, that puts him at the very center of medieval life and culture and thus makes him relevant for our own times." Revue d'histoire ecclesiastique

"This marvelous book about one of the most controversial and interesting of twelfth-century men deserves the warmest welcome...It will surely establish itself and maintain a place for many years, as an accessible and balanced assessment of Abelard ..." Reviews in History

"This book is much more than a life of Abelard: it is also an excellent survey of the twelfth century, which, while remaining faithful to the highest standards of scholarship, reads much like a good novel. This is a rare case indeed: a book with much to offer to specialists and beginners, which can also be recommended to historians and theologians alike." Theological Studies

"This is one of the half-dozen best books ever written about the European Middle Ages. M.T. Clanchy integrates ecclesiastical, cultural, and social history, and the biography of a great mind and academic with depth of learning, subtlety of insight, and skillful and at times elegant writing that are rarely seen among medievalists ... My only regret is that I came to the end of it too quickly. I would gladly have remained immersed in Abelard and Heloise and their world for another two or three hundred pages ... Clanchy's Aberlard will stay with you and haunt your sensibility and imagination." American Historical Review

"Clanchy has performed a valuable service in bringing together often difficult and specialised scholarship into accessible form for the general reader." Journal of Religious History
Features
* Vivid and original reappraisal of one of the most influential and extraordinary men of medieval Europe: a key figure of the twelfth-century renaissance.
* Written by one of England's most distinguished medieval historians of international renown.
* Discusses all aspects of Abelards life from his achievements as a medieval scholar and theologian to his seduction of Heloise and its notorious consequences.
* Reassesses role of Heloise, arguing that she educated him rather than vice versa.