Able Underachievers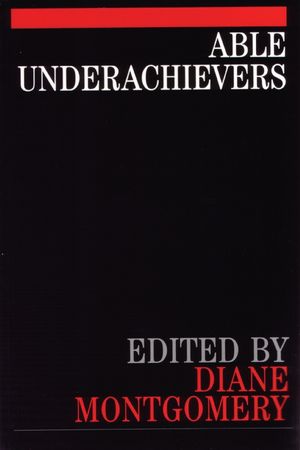 Able Underachievers
ISBN: 978-1-861-56193-0 October 2000 180 Pages
Description
Since the introduction of mass schooling educationalists have been concerned that large numbers of able children have underfunctioned. This book advocates that the current curriculum needs to be taught differently so as to include all learners and to 'engage their brains' with the curriculum content. Evidence of what is needed and what works with able underachievers, the disaffected and low attainers from a wide range of backgrounds lies in the pedagogy used. It concludes that teaching and learning methods need to be modified to become learning orientated and learner centred rather than subject orientated and teacher centred. Education will then have 'come of age'.
Questions for The Education of The Gifted and Talented (Jane Piirto).
Lliteracy, Flexible Thinking and Underachievement (Joan Freeman).
On The psychodynamics of Psychological and Behavioural Difficulties of Highly Able children - Experiences From a Psychotherapeutic Practice (Barbara Schlichte-Hiersemenzel).
Understanding and Overcoming Underachievement in Girls (Lorraine Wilgosh).
Understanding and Overcoming Underachievement in Boys (Barry Hymer).
Holistic Learners -identifying Gifted Children With Learning disabilities, an Experimental Perspective (Eva Gyarmathy).
Changing The Teaching for Underachieving Able Children, The Ruyton School Experience (Lee Wills and John Munro).
Overcoming The Underachievement of Gifted and Talented Students (Dorothy Sisk).
Inclusive Education for Able Underachievers (Diane Montgomery).
Combating Literacy Difficulties in Able Underachievers (Diane Montgomery).
Shaping my Life.
Evolving Strategies of High Ability Women - Biographical studies (Janice Leroux).