Abnormal Psychology, 12th Edition International Student Version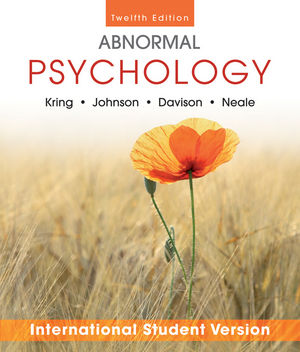 Abnormal Psychology, 12th Edition International Student Version
ISBN: 978-1-118-09241-5
Apr 2012
656 pages
Product not available for purchase
Description
The 12th edition of Abnormal Psychology continues to the provide readers with the opportunity to explore the latest theories and research in the field.

The text offers more emphasize on recent and comprehensive research coverage that has been the hallmark of the series.  While the writing across all the chapters has been streamlined to increase the clarity of presentation and to highlight the key issues in the field, several chapters have been expounded upon to provide greater understanding of the material provided. This edition emphasizes an integrated approach, showing how psychopathology is best understood by considering multiple perspectives, and how these varying perspectives can provide us with the clearest accounting of the causes of these disorders as well as the best possible treatments.

 
Part One Introduction and Fundamental Issues
1 Introduction and Historical Overview 1
2 Current Paradigms in Psychopathology 29
3 Diagnosis and Assessment 62
4 Research Methods in Psychopathology 104
Part Two Psychological Disorders
5 Mood Disorders 131
6 Anxiety Disorders 174
7 Obsessive-Compulsive-Related and Trauma-Related Disorders 203
8 Dissociative Disorders and Somatic Symptom D isorders 226
9 Schizophrenia 252
10 Substance Use Disorders 287
11 Eating Disorders 333
12 Sexual Disorders 362
13 Disorders of Childhood 393
14 Late Life and Neurocognitive Disorders 443
15 Personality and Personality Disorders 465
16 Legal and Ethical Issues 493
Glossary G1
References R1
Quotation and Illustration credits Q1
Name Index N1
Subject Index S1
Significant new material correlated to the forthcoming Diagnostic and Statistical Manual of Mental Disorders 5 (DSM-5), included in every chapter.
New Organization:

  

Material on treatments (previously chapter 16 in the 11th edition) has been integrated so that treatments are now covered alongside each disorder.

 

Also, the disorders chapters (Chapters 5-15) have been reorganized to better mirror the organization of DSM-5.

 

Many new tables and figures throughout the book illustrate the similarities and differences between DSM-5 and previous diagnostic symptoms
Hundreds of updated references throughout the book
Many new figures, particularly more figures to carefully illustrate the genetics and brain networks involved in different disorders
New Clinical Cases throughout the chapters
Several additional "Focus on Discovery" boxes added to this edition
New material on culture and ethnicity and how it impacts the study of psychopathology and intervention.

 

This material has been added throughout the book, with significant material added in Chapters 2, 3, 9 and 10.
Balanced coverage throughout, with a blend of research with clinical applications
Comprehensive coverage of current research, theories and applications
Takes a problem-solving approach, by presenting students with the investigative process used by practicing clinicians and scientists
Employs a Multiple Paradigm Approach that shows how psychopathology is best understood by considering multiple perspectives, or paradigms when suggesting treatment options