Abnormal Psychology, 1st Edition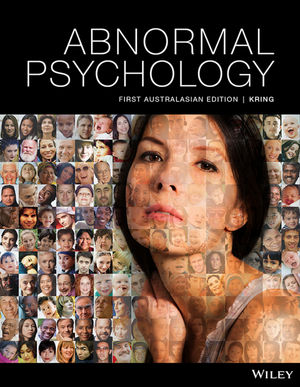 Abnormal Psychology, 1st Edition
ISBN: 978-0-730-35042-2
Oct 2017
Product not available for purchase
Description
Abnormal Psychology, 1st Edition has been adapted to the Australia/New Zealand region from the popular American edition, which has been a trusted resource for instructors and students for many years. There is comprehensive coverage of current research and theory and treatment, while also supporting a multiple paradigm approach and covering the cutting-edge research and theory that is central to the discipline. Local research is spread throughout each chapter with scores of carefully curated articles and news items giving relevancy to students to help to engage them during tutorials or in a flipped or blended learning approach. Delivered as a WileyPLUS Learning Space interactive textbook, this rich digital resource brings psychology to life with rich media, videos, interactives and revision materials embedded at the point of learning.
Chapter 1. Introduction to Abnormal Psychology
Chapter 2. Diagnosis and Assessment
Chapter 3. Mood Disorders
Chapter 4. Anxiety, Obsessive Compulsive and Trauma-Related Disorders
Chapter 5. Dissociative Disorders and Somatic Symptom Disorders
Chapter 6. Schizophrenia
Chapter 7. Substance Use Disorders
Chapter 8. Eating Disorders
Chapter 9. Sexual Disorders
Chapter 10. Disorders of Childhood
Chapter 11. Late Life of Neurocognitive Disorders
Chapter 12. Personality and Personality Disorders
Chapter 13. Legal and Ethical Issues
Accessible Content: This new edition comprises insightful and engaging content delivered in concise, digestible chunks to support students' engagement and retention.
Visibility of Progress: When purchased by the institution for all students, WileyPLUS Learning Space provides sophisticated insight into students' participation, engagement and proficiency in the course through real-time, actionable reports.
Trusted Authorship: Know you're getting the best content from a team of leading Mental Health Care experts from throughout Australia.
Interactive Online Textbook: The WileyPLUS Learning Space interactive textbook is full of rich media and activities to facilitate engaged learning.
Gamification: Interactive 2D capstone activities at the end of each chapter ask students to put themselves in hypothetical clinical situations through branched-chain scenarios.
Engaging Videos: Hours of bespoke ANZ videos with current practising psychologists and psychology researchers engage students with storytelling from the field.