Abnormal Psychology, 2nd Edition Binder Ready Version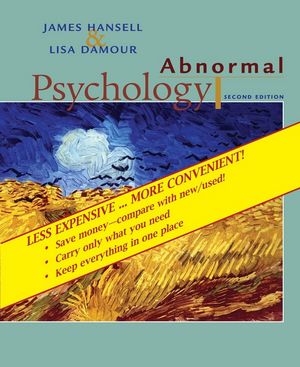 Abnormal Psychology, 2nd Edition Binder Ready Version
ISBN: 978-0-470-27979-3 January 2008 712 Pages
Description
Hansell & Damour's Abnormal Psychology, 2e will empower your students with the critical thinking skills to better detail, classify, explain and ultimately better understand abnormal behavior.
Written by practicing clinicians and featuring a streamlined table of contents, Abnormal Psychology, 2e offers a new, innovative approach that encourages the critical thinking skills which will help students see the "forest for the trees." By placing the DSM-IV in a larger context using a wide variety of examples, situations and applications, students better understand and contextualize the numerous mental illnesses discussed in the course. This includes a new series of critical thinking questions tied to the "core concepts" framework of the text. Additionally there are 15 new "visual essays" that highlight the most important biological principals, each is designed to help students make the connection between biology and mental illness.
Abnormal Psychology, 2nd Edition is available in 3 versions:
ISBN 978-0-470-27434-7: Abnormal Psychology, 2nd Edition, WileyPLUS Stand-alone version of Hansell 2e.
ISBN 978-0-470-28081-2: Abnormal Psychology, 2nd Edition, Hansell 2e with WileyPLUS.
ISBN 978-0-470-27979-3: Abnormal Psychology, 2nd Edition, Binder Ready Version of Hansell 2e.
Table of contents
Chapter 1. Abnormal Psychology: The Core Concepts.
Chapter 2. Defining Abnormality: What Is Psychopathology?
Chapter 3. Explaining Abnormality: What Causes Psychopathology?
Chapter4. Classifying Abnormality: Diagnosis and Assessment.
Chapter 5. Anxiety and the Anxiety Disorders.
Chapter 6. Mood and the Mood Disorders.
Chapter 7. Dissociation and the Dissociative Disorders.
Chapter 8. Eating, Weight, and the Eating Disorders.
Chapter 9. Drug Use and the Substance Use Disorders.
Chapter 10. Sex, Gender, and the Sexual Disorders.
Chapter 11. Personality and the Personality Disorders.
Chapter 12. Psychosis and Schizophrenia.
Chapter 13. Lifespan Development: Disorders of Childhood and Old Age.
Part One. Disorders Of Childhood.
Part Two. Disorders Of Old Age.
Chapter 14. Psychological Stress and Physical Disorders.
Chapter Summary.