Abnormal Psychology, 6th Canadian Edition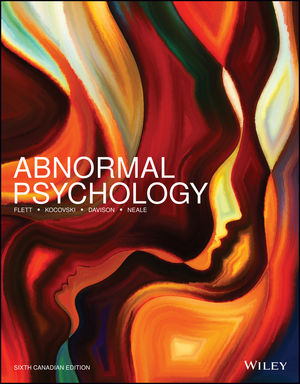 Abnormal Psychology, 6th Canadian Edition
Description
Abnormal Psychology, 6th Canadian Edition will provide your students with the most up-to-date, relevant and reliable content available in an abnormal psychology undergraduate textbook. Professors can trust that with Flett 6th Canadian edition their students have the most comprehensive and accurate content and research coverage available in a textbook providing them the foundation they need to succeed in their Canadian psychology studies.
This new edition will also include WileyPLUS Learning Space which is an easy way for students to learn, collaborate, and grow. With WileyPLUS Learning Space, students create a personalized study plan, assess progress along the way, and make deeper connections as they interact with the course material and each other.
Chapter 1: Introduction, Definition and Historical Considerations, and Canada's Mental Health System
Chapter 2: Current Paradigms and Integrative Approaches
Chapter 3: Clinical Assessment, Classification, and Diagnosis
Chapter 4: Research Methods in the Study of Abnormal Behaviour
Chapter 5: Anxiety Disorders (PTSD Moved to revised chapter 9)
Chapter 6: Obsessive-Compulsive and Related Disorders (new chapter)
Chapter 7: Somatic Symptom and Dissociative Disorders
Chapter 8: Mood Disorders
Chapter 9: Stressor-Related Disorders and Clinical Health Psychology
Chapter 10: Eating Disorders
Chapter 11: Schizophrenia
Chapter 12: Substance-Related Disorders
Chapter 13: Personality Disorders
Chapter 14: Sexual Dysfunctions
Chapter 15: Disorders of Childhood
Chapter 16: Aging and Psychological Disorders
Chapter 17: Clinical Treatment Issues and Approaches
Chapter 18: Legal Issues in Psychological Intervention
New and updated references throughout
Chapters are organized by learning objectives
Chapters have been reconfigured to fit the DSM-5 framework
Currency: Excels in its integration of current research. Flett, Kocovski, Davison,and Neale include one of the largest and most current collections of international and Canadian references of any abnormal psychology text.
Focus on Discovery boxes provide interesting, in-depth discussions of specialized topics related to the text material.
The Canadian Clinical Focus boxes examine both specific clinics in various regions of Canada and clinical intervention issues.
Updated Cases: Each revision offers many new cases that illustrate specific disorders.
Approach: Follows the widely praised scientific clinical approach that balances clinical and empirical/experimental coverage.
Critical Thinking: Analyzes research, rather than simply citing it, encouraging students to think critically about what they are learning and to develop a framework for evaluating research evidence.
Topically Innovative: Provides the most comprehensive coverage of aging available (Chapter 16), an important topic first pioneered by an earlier edition of the text.