Abnormal Psychology: DSM-5 Update, 12th Edition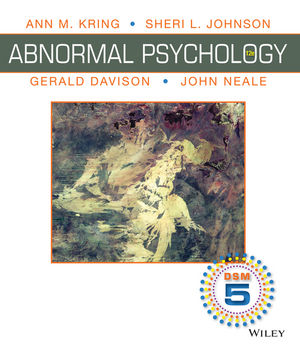 Abnormal Psychology: DSM-5 Update, 12th Edition
ISBN: 978-1-118-82600-3 July 2013 656 Pages
Description
Note: This ISBN does not include an Online Access Code or any Online Components.

For nearly four decades, Abnormal Psychology has been a trusted resource for instructors and students. Abnormal Psychology: DSM-5 Update, 12th Edition Binder Ready Version is known for its comprehensive coverage of current research, theory and treatment, Abnormal Psychology has long been praised for its multiple paradigm approach and coverage of cutting-edge research and theory which are central to the discipline. This is an unbound, binder-ready version.
Chapter 1: Introduction and Historical Overview
Chapter 2: Current Paradigms in Psychopathology
Chapter 3: Diagnosis and Assessment
Chapter 4: Research Methods in Psychopathology
Chapter 5: Mood Disorders
Chapter 6: Anxiety Disorders
Chapter 7: Obsessive-Compulsive Related and Trauma-Related Disorders
Chapter 8: Dissociative Disorders and Somatic Symptom Disorders
Chapter 9: Schizophrenia
Chapter 10: Substance Use Disorders
Chapter 11: Eating Disorders
Chapter 12: Sexual Disorders
Chapter 13: Disorders of Childhood
Chapter 14: Late Life and Neurocognitive Disorders
Chapter 15: Personality and Personality Disorders
Chapter 16: Legal and Ethical Issues
Significant new material correlated to the Diagnostic and Statistical Manual of Mental Disorders 5 (DSM-5), included in every chapter.
New Organization:   Material on treatments (previously chapter 16 in the 11th edition) has been integrated so that treatments are now covered alongside each disorder.  Also, the disorders chapters (Chapters 5-15) have been reorganized to better mirror the organization of DSM-5. 
Many new tables and figures throughout the book illustrate the similarities and differences between DSM-5 and previous diagnostic symptoms
Hundreds of updated references throughout the book
Many new figures, particularly more figures to carefully illustrate the genetics and brain networks involved in different disorders
New Clinical Cases throughout the chapters
Several additional "Focus on Discovery" boxes added to this edition
New material on culture and ethnicity and how it impacts the study of psychopathology and intervention.  This material has been added throughout the book, with significant material added in Chapters 2, 3, 9 and 10.
Balanced coverage throughout, with a blend of research with clinical applications
Comprehensive coverage of current research, theories and applications
Takes a problem-solving approach, by presenting students with the investigative process used by practicing clinicians and scientists
Employs a Multiple Paradigm Approach that shows how psychopathology is best understood by considering multiple perspectives, or paradigms when suggesting treatment options