Abnormal Psychology: The Science and Treatment of Psychological Disorders, 13th Edition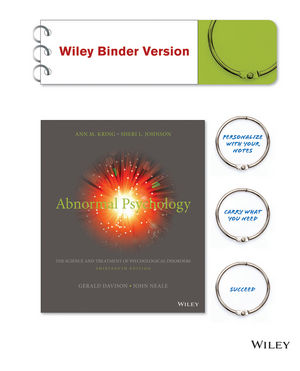 Abnormal Psychology: The Science and Treatment of Psychological Disorders, 13th Edition
ISBN: 978-1-118-95398-3 December 2014 642 Pages
Selected type:
Loose-leaf
Description
This text is an unbound, three hole punched version.

For nearly four decades, Abnormal Psychology, Binder Ready Version 13th Edition has been a trusted resource for instructors and students. Known for its comprehensive coverage of current research, theory and treatment, Kring's Abnormal Psychology, Binder Ready Version 13th Edition has long been praised for its multiple paradigm approach and coverage of cutting-edge research and theory which are central to the discipline.
To continue to update and innovate, the most exciting and accepted theories, research, and treatments have been added and highlighted.
 
New figures have been included to carefully illustrate the genetics and brain networks involved in different disorders.


In addition to multiple new Clinical Case boxes, new Focus on Discovery boxes have been added in order to illustrate what the different disorders look like in the context of real people's lives as well as to showcase cutting edge research on particular topics.


New Check Your Knowledge questions have been modified and added in nearly all chapters so that students can do a quick check to see if they are learning and integrating the material.
Balanced coverage throughout, with a blend of research with clinical applications.


Comprehensive coverage of current research, theories and applications.


Takes a problem-solving approach, by presenting students with the investigative process used by practicing clinicians and scientists.
 
Employs a Multiple Paradigm Approach that shows how psychopathology is best understood by considering multiple perspectives, or paradigms when suggesting treatment option<A-LESS-THE_WILEY_ADVANTAGE>sSee More.
WileyPLUS Learning Space: WileyPLUS Learning Space is an easy way for students to learn, collaborate, and grow. With WileyPLUS Learning Space, students create a personalized study plan, assess progress along the way, and make deeper connections as they interact with the course material and each other.
Through a combination of dynamic course materials and visual reports, this collaborative learning environment gives you and your students immediate insight into strengths and problem areas in order to act on what's most important.