Abnormal Psychology: The Science and Treatment of Psychological Disorders, 13th Edition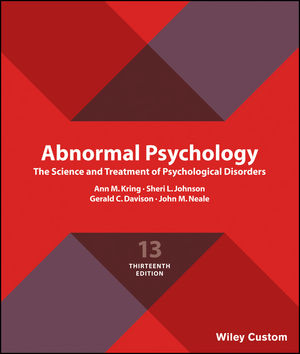 Abnormal Psychology: The Science and Treatment of Psychological Disorders, 13th Edition
ISBN: 978-1-119-37879-2
Feb 2017
640 pages
Description
For nearly four decades, Abnormal Psychology has been a trusted resource for instructors and students. Known for its comprehensive coverage of current research, theory and treatment, this text has long been praised for its multiple paradigm approach and coverage of cutting-edge research and theory which are central to the discipline.
Chapter 1 Introduction and Historical Overview
Defining Psychological Disorder
History of Psychopathology
The Evolution of Contemporary Thought
Have We Learned from History?
The Mental Health Professions
Summary
Chapter 2 Current Paradigms in Psychopathology
The Genetic Paradigm
The Neuroscience Paradigm
The Cognitive Behavioral Paradigm
Factors That Cut Across the Paradigms
Diathesis–Stress: An Integrative Paradigm
Summary
Chapter 3 Diagnosis and Assessment
Cornerstones of Diagnosis and Assessment
Classification and Diagnosis
Psychological Assessment
Neurobiological Assessment
Cultural and Ethnic Diversity and Assessment
Summary
Chapter 4 Research Methods in Psychopathology
Science and Scientific Methods
Approaches to Research on Psychopathology
The Experiment
Integrating the Findings of Multiple Studies
Summary
Chapter 5 Mood Disorders
Clinical Descriptions and Epidemiology of Mood Disorders
Etiology of Mood Disorders
Treatment of Mood Disorders
Suicide
Summary
Chapter 6 Anxiety Disorders
Clinical Descriptions of the Anxiety Disorders
Gender and Cultural Factors in the Anxiety Disorders
Common Risk Factors Across the Anxiety Disorders
Etiology of Specific Anxiety Disorders
Treatments of the Anxiety Disorders
Summary
Chapter 7 Obsessive-Compulsive-Related and Trauma-Related Disorders
Obsessive-Compulsive and Related Disorders
Posttraumatic Stress Disorder and Acute Stress Disorder
Summary
Chapter 8 Dissociative Disorders and Somatic Symptom-Related Disorders
Dissociative Disorders
Somatic Symptom and Related Disorders
Summary
Chapter 9 Schizophrenia
Clinical Descriptions of Schizophrenia
Etiology of Schizophrenia
Treatment of Schizophrenia
Summary
Chapter 10 Substance Use Disorders
Clinical Descriptions, Prevalence, and Effects of Substance Use Disorders
Etiology of Substance Use Disorders
Prevention of Substance Use Disorders
Summary
Chapter 11 Eating Disorders
Clinical Descriptions of Eating Disorders
Etiology of Eating Disorders
Treatment of Eating Disorders
Summary
Chapter 12 Sexual Disorders
Sexual Norms and Behavior
Sexual Dysfunctions
The Paraphilic Disorders
Summary
Chapter 13 Disorders of Childhood
Classification and Diagnosis of Childhood Disorders
Attention-Deficit/Hyperactivity Disorder
Conduct Disorder
Depression and Anxiety in Children and Adolescents
Specific Learning Disorder
Intellectual Disability
Autism Spectrum Disorder
Summary
Chapter 14 Late Life and Neurocognitive Disorders
Aging: Issues and Methods
Psychological Disorders in Late Life
Neurocognitive Disorders in Late Life
Summary
Chapter 15 Personality Disorders
The DSM-5 Approach to Classification
Alternative DSM-5 Model for Personality Disorders
Common Risk Factors Across the Personality Disorders
Clinical Description and Etiology of the Odd/Eccentric Cluster
Clinical Description and Etiology of the Dramatic/Erratic Cluster
Clinical Description and Etiology of the Anxious/Fearful Cluster
Treatment of Personality Disorders
Summary
Chapter 16 Legal and Ethical Issues
Criminal Commitment
Civil Commitment
Ethical Dilemmas in Therapy and Research
Summary
Glossary
References
Name Index
Subject Index