Academic Pathways To and From the Community College: New Directions for Community Colleges, Number 135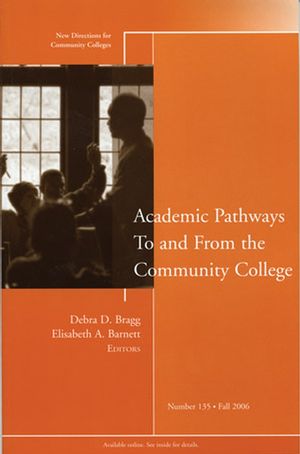 Academic Pathways To and From the Community College: New Directions for Community Colleges, Number 135
ISBN: 978-0-787-99422-8 October 2006 Jossey-Bass 120 Pages
Description
Academic Pathways To and From the Community College examines local, state, and federal programs and policies designed to enhance opportunities for underserved students to enter and succeed in college, paying particular attention to community colleges. The volume focuses on academic pathways, including boundary-spanning curricula, instructional strategies, and organizational structures that link high schools with two and four-year colleges. Topics cover dual credit, dual enrollment, and early and middle college high schools, as well as career and technical education pathways, community college baccalaureate degrees, and other emerging academic pathway models.

This is the 135th volume of the quarterly report, New Directions for Community Colleges, published by Jossey-Bass.

Click here to see the entire listing of issues for New Directions for Community Colleges.
EDITORS' NOTES 1
Debra D. Bragg, Elisabeth A. Barnett
1. Creating Access and Success: Academic Pathways Reaching Underserved Students 5
Debra D. Bragg, Eunyoung Kim, Elisabeth A. Barnett
The fifty states differ in the degree to which they support various academic pathways that improve opportunities for underserved students to matriculate into college. This chapter discusses results of a fifty-state study conducted through the Academic Pathways to Access and Student Success initiative, and identifies curricular approaches that increase opportunities for underserved students to attend college.
2. Historically Underserved Students: What We Know, What We Still Need to Know 21
Denise Green
Community colleges educate many underserved students, including minority, first-generation, and low-income students. This chapter discusses what we know about these students, how they have fared in college transitions, how educational pipeline and deficit models have helped or hindered their progress, and what community college educators should seek to understand about diverse student populations.
3. Local Pathways and Statewide Policies Aligning Standards and Curricula 29
Andrea Conklin Bueschel, Andrea Venezia
This chapter describes examples of local pathways and statewide policies that align community college standards and curricula with those at high schools and four-year colleges and universities.
4. Florida's Dual Enrollment Initiative: How State Policy Influences Community Colleges' Service to Underrepresented Youth 39
Erika Hunt, Charles E. Carroll
This chapter describes Florida's Accelerated Mechanism Program, identifies challenges that have resulted from shifting intentions behind state dual enrollment policies, and shows how changing state policy has
influenced strategies used by one college to successfully enroll underserved students and support their transition to college.
5. Middle and Early College High Schools—Providing Multilevel Support and Accelerated Learning 49
Terry Born
Middle and early college high schools offer underserved students the opportunity to simultaneously engage in high school and college classes, with the goal of completing both a high school diploma and an
associate degree within five years. This chapter describes student support services at two middle and early college high schools.
6. Achieving the Baccalaureate Through the Community College 59
Deborah L. Floyd
This chapter presents the different ways in which community colleges participate in baccalaureate education, and debunks myths surrounding the controversial community college baccalaureate degree.
7. The Role of Career and Technical Education in Facilitating Student Transitions to Postsecondary Education 73
Donna E. Dare
This chapter describes four models of career and technical education programs that integrate rigorous academic preparation to facilitate student transition to the community college.
8. How Students Benefit from High-Tech, High-Wage Career Pathways 81
Meg Draeger
This chapter describes how the Miami Valley Tech Prep Consortium in Dayton, Ohio, is working to involve a wider range of students in Tech Prep pathways that bridge high school and college.
9. Arizona's Teacher Education Initiative: Aligning High School and College Curricula 91
Cheri St. Arnauld
The state of Arizona is proactively developing strong partnerships and working relationships to ensure that future teachers in the state will be ready for the rigorous expectations of the profession. These partnerships have created teacher education pathways that link high schools, community colleges, and public universities.
10. Academic Pathways and Increased Opportunities for Underserved Students: Crosscutting Themes and Lessons Learned 101
Elisabeth A. Barnett, Debra D. Bragg
This chapter emphasizes crosscutting themes that emerge throughout the volume, paying particular attention to lessons learned about practice and policy. Creating multiple pathways that span different levels of the P–16 system is essential if educators and policymakers are to create a greater number of opportunities for underserved students to access and succeed in college.
INDEX 109