Accelerating International Growth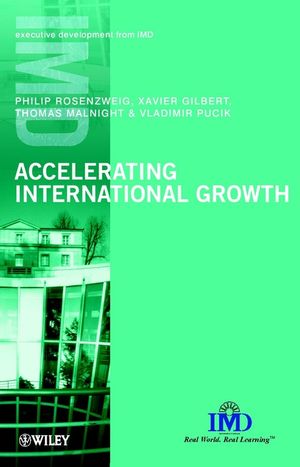 Accelerating International Growth
ISBN: 978-0-471-49659-5
Aug 2001
280 pages
Description
The third title from Executive Development from IMD is devoted to Accelerating International Growth, one of today's most crucial business challenges. It provides the knowledge and the tools needed to speed up the development process and reach a stronger global position efficiently and quickly, and is firmly focused on answering the real questions facing leading companies as they undertake expansion in the field. Accelerating International Growth focuses on the strategic, organizational and human aspects of international growth. The book is aimed at practising managers in companies that are either in the process of expanding internationally, or are considering whether to do so.

Philip Rosenzweig and his IMD colleagues combine a thorough conceptual understanding of the attractions and challenges of international growth with a practical explanation of the key elements of successful implementation. Foreign entry modes, managing entry and post-entry phases, cross-border joint ventures, organizational learning, and human resource management are all explored in detail. Readers will emerge with the skills to clearly understand what drives the process, identify the key challenges, and avoid the greatest pitfalls.
Foreword.

Preface.

Acknowledgements.

Overview: International Growth is Everybody's Business (P. Rosenzweig).

DEVELOPING STRATEGIC CAPABILITY.

Grasping the Globe (P. Rosenzweig).

Crafting an International Growth Strategy (P. Rosenzweig).

MANAGING GLOBAL PARTNERSHIPS.

Competing through Alliances and Joint Ventures (V. Pucik).

Mergers and Acquisitions (V. Pucik).

STAFFING THE GLOBAL COMPANY.

Managing Expatriation (V. Pucik).

Developing Local Talent (P. Rosenzweig).

FOSTERING GLOBAL LEARNING.

The Global Learning Imperative (X. Gilbert).

Deploying the Domestic Business Model Internationally: The Inside-Out Approach (X. Gilbert).

Stretching the Business Model Globally: The Outside-In Approach and the Learning Intent (X. Gilbert).

ADAPTING THE GLOBAL ORGANIZATION.

Changing Perspectives on Global Strategy and Organization (T. Malnight).

Managing Subsidiary Evolution (T. Malnight).

PUTTING IT TOGETHER.

Accelerating International Growth -
And Succeeding (P. Rosenzweig).

Contributors.

Index.