Accelerating New Food Product Design and Development, 2nd Edition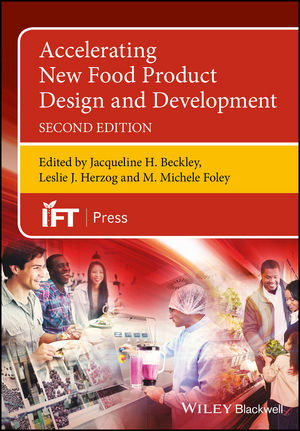 Accelerating New Food Product Design and Development, 2nd Edition
ISBN: 978-1-119-14930-9 October 2017 Wiley-Blackwell 408 Pages
Description
Written primarily for directors and managers of food design and development, food scientists, technologists, and product developers, this book explains all the necessary information in order to help meet the increasing demands for innovation in an industry that is providing fewer resources. This updated edition, by a group of seasoned food industry business professionals and academics, provides a real-world perspective of what is occurring in the food industry right now, offers strategic frameworks for problem solving and R&D strategies, and presents methods needed to accelerate and optimize new product development.
Accelerating New Food Product Design and Development, Second Edition features five brand new chapters covering all the changes that have occurred within the last decade: A Flavor Supplier Perspective, An Ingredient Supplier Perspective, Applying Processes that Accelerate New Product Development, Looking at How the University Prepares Someone for a Career in Food, and Innovative Packaging and Its Impact on Accelerated Product Development.
Offers new perspectives on what really goes on during the development process
Includes updated chapters fully describing the changes that have occurred in the food industry, both from a developer's point of view as well as the consumer requirements
Features a completely rewritten chapter covering the importance of packaging which is enhanced through 3D printing
All of this against the impact on speed to market
Filled with unique viewpoints of the business from those who really know and a plethora of new information, Accelerating New Food Product Design and Development, Second Edition will be of great interest to all professionals engaged in new food product design and development.
Contributors xiii
Preface xv
Chapter 1 Introduction 1
Jacqueline H. Beckley, Leslie J. Herzog, and M. Michele Foley
Part I Understanding Product Development in Today's Food Industry
Chapter 2 How did the Food Industry Get (From There) to Here? 11
Diane Toops
Chapter 3 Why Understanding Trends is Important to Product Success 29
Lynn Dornblaser
Chapter 4 Developing Partnerships: Using Outside Resources for Product Development 47
Kathleen N. Feicht
Chapter 5 Building Superior R&D Organizations 59
The Editors
Chapter 6 A Flavor Supplier Perspective – Let's Cut to the Chase and Win Together! 71
Dulce Paredes, Ratapol Teratanavat, and Carter Green
Chapter 7 Supplier Collaboration and Open Innovation to Accelerate Food Product Development 81
Mary Lynne Shafer and Yadunandan Dar
Chapter 8 One Company's Perspective on Innovation – Starbucks Coffee, Circa 2006 105
The Editors
Chapter 9 Innovation versus Invention: Serendipity, Chance, and Experience Favoring Prepared Minds 117
L. Steven Young and T. Lynn Harper
Part II Accelerating Food Product Design and Development
Chapter 10 Brands: A Discussion on the Difference Between Creating Good Brands and Meaningful Brands 129
The Editors
Chapter 11 Market Forces: The Push]Pull of Marketing and Advertising in the New Product Business 145
The Editors
Chapter 12 Looking at How the University Prepares Someone for a Career in Food Science 163
Amanda Kinchla and Eric Decker
Chapter 13 Applying Processes that Accelerate New Product Development 179
Jennifer Vahalik and Lisa Alfieri
Chapter 14 Design of Packaging that Fills the Promise and Meets/Exceeds Consumer Expectations 205
Bruce Harte and Melissa Jeltema
Chapter 15 Making Lemon Bars out of Lemons: Using the Power of Teamwork to Transform Concepts to Reality 235
Leslie J. Herzog
Part III Optimizing Food Product Design and Development
Chapter 16 Identifying Critical Steps in the New Product
Chapter 17 Category Appraisal and Ingredient Search: Identifying Key Sensory Factors and Product Features at the Early Development Stage 259
David Moskowitz
Chapter 18 Applications of Discriminant and Logistic Regression Analysis for Consumer Acceptance and Consumer]Oriented Product Optimization Study 299
Witoon Prinyawiwatkul and Penkwan Chompreeda
Chapter 19 Response Surface Methodology and Consumer]Driven Product Optimization 323
Amanda Nugent
Chapter 20 Accelerating and Optimizing New Food Product Design and Development – Where Does Design and Development go Next? 365
Jacqueline H. Beckley, Leslie J. Herzog, and M. Michele Foley
Index 373