Accessing Capital Markets through Securitization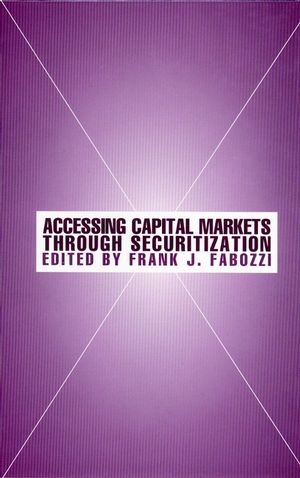 Accessing Capital Markets through Securitization
ISBN: 978-1-883-24992-2 May 2001 248 Pages
Description
This innovative collection, written by securitization professionalsand edited by finance guru Frank Fabozzi, thoroughly explains thebasics and the mechanics of securitization and shows howsecuritization can help more institutions offer innovativefixed-income products.

Further, it discusses the effects of the capital markets onsecuritization and helps financial professionals decide whether ornot to securitize. Filled with strategies and techniques, financialprofessionals will learn how to use float asset-backed offeringsand how to hedge against risk and default.
Table of contents
Contributing Authors.

Market Innovation in Securitization and Structured Finance (D.Singer).

Securitization Basics (D. Singer).

The Anatomy of a Securitization (B. Lockwood, etal.).

Credit Enhancement in ABS Structures (L. Hsu and C.Mohebbi).

Observations on Effecting Your First Asset-Backed SecuritiesOffering (K. Morrison).

To Securitize or Not? (S. Johnson).

Strategies for Community Bankers (J. Sinkey Jr.).

The Structure, Economics, and Risk of Conduits (P. Elmer).

FASIT Flexibility Applied to Subprime Securitizations (P.Pollock and M. Shaff).

Strategic Choices in Asset Sales (A. Avery).

The Measurement of Prepayments and Defaults in ABS Markets (A.Bhattacharya).

Understanding MBS/ABS Loss Terminology (T. Zimmerman).

Developing the Prospectus Prepayment Curve for Real EstateBacked Structured Products (B. Adams and G. Schultz).

Securitization and Other Structured Finance Techniques forEquipment Leasing Companies (J. Mathew).

Manufactured Housing Securitization (P. Watterson, etal.).

Promoting Securitization in Emerging Economies (B. Jain).

Appendix: Glossary of Frequently Used Terms in AssetSecuritization (K. Morrison).

Index.
Reviews
"Frank Fabozzi's series is the gold standard for investmentreference books. Always topical and often influential this is thefirst place I send students or practitioners when they want to getup to speed on a new area." (Stephen A. Ross, Franco ModiglianiProfessor of Finance and Economics, Sloan School, MIT)

"The Fabozzi series provides the ultimate educationalencyclopedia for the global debt capital markets. Each day,billions of dollars of debt securities trade around the worldaccording to the principles clearly and comprehensively explainedin this unrivaled series dedicated to the advancement of ourknowledge-based profession." (Jack Malvey, Managing Director, ChiefGlobal Fixed-Income Strategist, Lehman Brothers)

"When in doubt, you can always look it up in a book by FrankFabozzi. Fabozzi, who's not called the Prolific Professor fornothing, has written or edited dozens of textbooks oninvesting--all rock-solid, for advanced investors only." (JasonZwieg, Money.com)