Accident and Emergency Nursing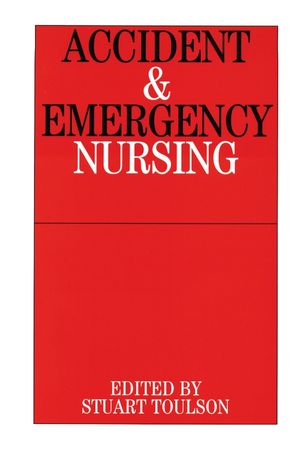 Accident and Emergency Nursing
ISBN: 978-1-861-56190-9 October 2001 520 Pages
Description
This comprehensive text, written by practising A&E nurses, seeks to provide the nurse with a professional overview of current A&E good practice. Divided into two sections the book covers all the common situations that may occur in an A&E department. Section one concerns itself with the various conditions that are presented and examines the clinical, practical aspects of those conditions. The second section discusses the professional issues involved in A&E nursing such as triage, the role of the Nurse Practitioner, violence and innappropriate attendance.
Contents

Section 1
Trauma Resuscitation (ATLS)

Cardiac Conditions
Respiratory Conditions
Surgical Conditions
Gynaecological Conditions
Unconsciousness
Neurological Conditions
Psychological Conditions
Orthopaedic Injuries
Burns
Paediatric Conditions
Soft Tissue Injuries
Opthalmic Conditions
E.N.T. Conditions
Section 2
Perceived Innappropriate Attendance
Triage
Role of the ENP
Telephone Triage
Health Education
Staff Support/Bereavement
Violence and Aggression
Major Accident Plannin
Cannot be combined with any other offers.
Original Price:$143.98
Purchased together:$107.98
save $36.00
Table of contents
Section 1.
Respiratory Conditions.
Surgical Conditions.
Gynaecological Conditions.
Unconsciousness.
Neurological Conditions.
Psychological Conditions.
Orthopaedic Injuries.
Burns.
Paediatric Conditions.
Soft Tissue Injuries.
Ophthalmic Conditions.
ENT Conditions.
Section 2.
Inappropriate Attendance.
Triage.
Role of The Enp.
Telephone Triage.
Health education.
Staff Support/bereavement.
Violence and Aggression.
Major Accident planning.