Accountability: A Challenge for Charities and Fundraisers: New Directions for Philanthropic Fundraising, Number 31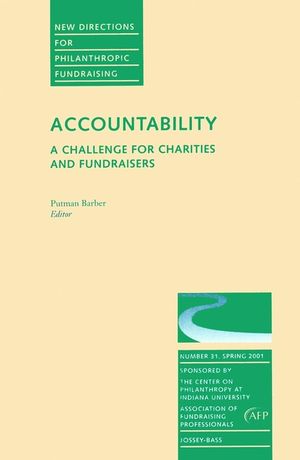 Accountability: A Challenge for Charities and Fundraisers: New Directions for Philanthropic Fundraising, Number 31
ISBN: 978-0-787-94864-1
Mar 2002, Jossey-Bass
120 pages
Description
This issue provides background on the development and the current state of various approaches to accountability. Authors outline the legal powers of donors to charities and and consider choices in structuring gifts to increase leverage as well as examine the scope of federal laws affecting nonprofits. They also review tools to improve performance analysis and discuss the National Center for Charitable Statistics' role in accountability and examine how to create more effective government oversight of charitable activities.

This is the 31st issue of the Jossey-Bass series New Directions for Philanthropic Fundraising.
Editor ?s Notes (Putnam Barber).
1. Enforcement: Legal Standing and Private Remedies (Evelyn Brody).
2. By what Means? Accountability and the Law (Geoffrey Peters).
3. The State of Evaluation Tools and Systems for Nonprofit Organizations (Vic Murray).
4. Accountability, Organizational Capacity,and Continuous Improve- ment: Findings from Minnesota ?s Nonprofit Sector (Angela L.Bies).
5. Nonprofit Accountability and the National Center for Charitable Statistics (Thomas H.Pollak, Linda M. Lampkin).
6. On Accountability: A State Charity Official ?s Prospective (Daniel Moore).
7. The Nonprofit Sector and Accountability (Sara E.Melendéz).
Conclusion (Putnam Barber).
Index.