Accounting: Building Business Skills, 3rd Edition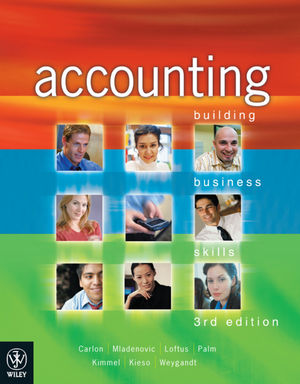 Accounting: Building Business Skills, 3rd Edition
ISBN: 978-0-470-81708-7
Nov 2008
1120 pages
Product not available for purchase
Description
Accounting: Building Business Skills 3rd edition is the new edition of the widely used and respected introductory accounting textbook. The new edition continues to provide students and academics with a well written and accessible textbook, with ample illustrations and applications to business, for a first study of accounting.  

The text maintains the balance between a "user" and "preparer" perspective effectively by integrating real financial information and business decision choices throughout the chapters. Through the use of real company information and financial statements students will quickly appreciate the use and users of accounting information. The textbook clearly outlines to students how a financial statement – such as a balance sheet, income statement, cash flow statement - communicates the financing, operating, and investing activities of a business.  The text builds a strong conceptual understanding and develops skills in the application of accounting principles and techniques, providing students with a solid foundation for further studies in accounting.  The integral role of financial statements for decision making is also emphasised in this text and is reinforced throughout by the Decision Toolkit in each chapter. Students are provided with an extensive set of tools necessary to make business decisions based on financial information.

The third edition will continue to engage, excite and educate students.
Chapter 1: An Introduction to Accounting.
Introduction to accounting.
Forms of business organisation.
Other forms of business organisation.
Users and uses of financial information.
Financial Statements.
Interrelationships of statements.
The financial reporting environment.
Concepts, principles and qualitative characteristics.
Analysing financial statements.
Chapter 2: The Accounting Information System.
The Accounting Information System.
Accounting Transactions and Events.
The Account.
Steps in the Recording Process.
The Recording Process Illustrated.
The Trial Balance.
Chapter 3: Accrual Accounting Concepts.
Timing Issues.
The Basics of Adjusting Entries.
The Adjusted Trial Balance and Financial Statements.
Closing the Books.
Summary of the Accounting Cycle.
Appendix: Adjusting Entries – Using a Work Sheet.
Chapter 4: Inventories.
Merchandising Operations.
Recording Purchases of Inventories.
Recording Sales of Inventories.
Income Statement Presentation.
Evaluating Profitability.
Appendix.
Overview of the GST Process.
Accounting for the Goods and Services Tax.
Chapter 5: Reporting and Analysing Inventory.
Classifying Inventory.
Periodic Inventory System.
Inventory Cost Flow Methods – Periodic system.
Valuing Inventory at the Lower of Cost and Net Realisable Value.
Analysis of Inventory.
Appendix 5A: Inventory Cost Flow Methods - Perpetual system.
First-in, First-out (FIFO).
Last-in, First-out (LIFO).
Average cost.
Appendix 5B: Inventory Errors.
Effects on profit.
Effects on assets and equity.
Appendix 5C: Closing entries for merchandising firms.
Chapter 6: Accounting Sub-Systems.
Basic Concepts of Accounting Information Systems.
Control Accounts and Subsidiary Ledgers.
Special Journals.
Computerised Accounting Information Systems.
Chapter 7: Internal control, Cash & Receivables.
Internal Control.
Cash.
Assessing Cash Adequacy.
Receivables.
Appendix A – Operation of the petty cash fund.
Chapter 8: Reporting & Analysing Non-current Assets.
Property, Plant and Equipment.
Intangible Assets.
Other Non-current Assets.
Reporting and Analysing Issues.
Chapter 9: Reporting & Analysing Liabilities.
Current Liabilities.
Non-current Liabilities.
Loans payable by instalment.
Provisions and contingent liabilities.
Financial Statement Analysis.
Chapter 10: Reporting and analysing equity.
The corporate forma of organisation.
Share issues.
Dividends.
Reporting on shareholder's equity.
Financial statement analysis and decision making.
Debt versus equity financing decisions.
Chapter 11: Statement of Cash Flows.
The Statement of Cash Flows: Purpose and Format.
Preparing the Statement of Cash Flows.
Using Cash Flows to Evaluate a Company.
Chapter 12: Financial Statement Analysis.
Earning Power and Irregular Items.
Comparative Analysis.
Ratio Analysis.
Limitations of Financial Statement Analysis.
Chapter 13: Introduction to Management Accounting.
Management Accounting Basics.
Management Cost Concepts.
Manufacturing Costs in Financial Statements.
Contemporary Developments in Management Accounting.
Chapter 14: Cost Accounting Systems.
Cost Accounting Systems.
Job Order Costing.
Process Costing.
Chapter 15: Cost Volume Profit Relationships.
Cost Behaviour Analysis.
Cost-Volume-Profit Analysis.
Break-even Analysis.
Chapter 16: Budgeting.
Budgeting Basics.
Preparing the Operating Budgets.
Preparing the Budgeted Financial Statements.
Budgeting in Non-manufacturing Entities.
Budgetary Control.
The Concept of Responsibility Accounting.
Types of Responsibility Centres.
Chapter 17: Incremental Analysis and Capital Budgeting.
Steps in Management Decision Making.
Incremental Analysis.
Types of Incremental Analysis.
Capital Budgeting.
Dominos Pizza Australia, known by most students, is the 'focus' company, and was chosen because it operates in the retail industry and has easy to read financial reports. 
When an accounting standard is referenced then the Australian and equivalent New Zealand accounting standard is presented.
Chapter 1 'An introduction to accounting' has been restructured to provide a more clear introduction to accounting and the users and use of financial information
Chapter 6 'Accounting subsystems' presents a real small business, Strathclyde Machine Tools, to illustrate how a business uses an accounting system and the type of business events captured in an accounting system. This chapter also includes a discussion of the differences between manual and computerised accounting systems.
Chapter 11 'Cash flow statement' updated to include a simplified method for preparing cash flow statement
Chapter 12 'Financial Statement Analysis' contains an integrated financial analysis of Nick Scali Limited and Fantastic Furniture Ltd that highlights performance
Management accounting section – chapters 13 to 17 – includes more service industry applications and new developments in management accounting applications
Real world companies and financial information updated and used to highlight accounting processes and reinforce learning via Business Insights and financial analysis
Australian, New Zealand and International Business Insights apply accounting tools to business decisions.
End of chapter activities and case studies revised to offer a new range of activities to develop business skills like analysis, communication, critical thinking, and exploratory techniques.
Each chapter includes a Crossword puzzle which is a fun activity that will assist students with their understanding of key accounting terms and processes.
Presents a balance between the user and preparer perspectives
Global nature of today's business world is emphasised via the International Notes and Business Insights
Easy to read writing style explains accounting processes succinctly and is ideal for all students, particularly ESL students
Chapter-Opening Previews contain charts that visually represent the chapter's outline. Each of these chapter "road maps" establishes the chapter's key concepts and their relationship to one another.
Chapter-Opening Vignettes are brief stories that show students how key topics of the chapter relate to the real world of business and accounting. Throughout the chapter the authors refer back to opening vignettes, putting ideas back into familiar context for the student.
Business Insight boxes relate the chapter's content to actual accounting situations in real business.  Three different icons identify three different points of view: Management Insights, Investor Insights and International Insights
Before You Go On, Review It, Do It questions serve as learning checks at the end of major text sections. Do It exercises ask students to put their knowledge to work in some form of financial statements preparation. Worked solutions show how problems should be solved.
Using the Decision Toolkit exercise challenges students to use financial information from a financial statement to make a financial decision. This feature appears after the last Before You Go On section in each chapter.
Strong emphasis on accounting as a business decision tool and processes
To enhance conceptual understanding of the impact of transactions, accounting equation analyses appear in the margins next to each journal entry
Features 4 colour presentation, and the pedagogical features are supported with graphics and photographs