Accounting: Building Business Skills, 4th Edition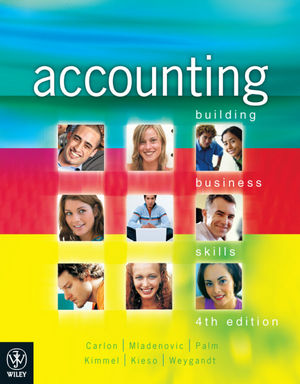 Description
Accounting: Building Business Skills 4th edition continues to provide students and academics with a well written and accessible textbook, with ample illustrations and applications to business, for a first course in accounting.   

The text is unique in the way it balances a "user" and "preparer" perspective and integrates real financial information to illustrate business decision choices and how decisions are made using accounting information. The pedagogical approach presented in the text has been tried and tested over many years, and provides a constructive framework for students to learn fundamental accounting concepts and processes. Through the use of real company information and financial statements students will quickly appreciate the use of accounting information. The textbook clearly outlines to students how to account for typical business transactions and prepare financial statements - such as a balance sheet, income statement, and statement of cash flows - that communicate the financing, operating, and investing activities of a business. 

Whether a student is required to study one accounting subject, as part of a wider business degree, or undertake a major study of accounting the text builds a strong conceptual understanding of accounting and will develop skills that can be applied to an accounting and business environment.  The integral role of financial statements for decision making is also emphasised in this text and is reinforced throughout by the Decision Toolkit in each chapter. Students are provided with an extensive set of tools necessary to make business decisions based on financial information.

The fourth edition is designed to engage and educate students.
1 An introduction to accounting 2
2 The accounting information system 88
3 Accrual accounting concepts 148
4 Inventories 216
5 Reporting and analysing inventory 264
6 Accounting subsystems 322
7 Internal control, cash and receivables 382
8 Reporting and analysing non-current assets 452
9 Reporting and analysing liabilities 510
10 Reporting and analysing equity 564
11 Statement of cash flows 620
12 Financial statement analysis 694
13 Analysing and integrating GAAP 764
14 Introduction to management accounting 828
15 Cost accounting systems 874
16 Cost–volume–profit relationships 942
17 Budgeting 984
18 Incremental analysis and capital budgeting 1056
APPENDIXES
A Domino's Pizza annual report 2010 (abridged) 1103
B Time value of money 1141
Chapter 13 Analysing and integrating GAAP is NEW and presents a conceptual framework that underpins all chapters by defining assets, liabilities, revenues, expenses and equity, and how each item is measured, disclosed and reported by an entity
Domino's Pizza Australia, is the 'focus' company, and was chosen because it operates in the service industry and has easy to read financial reports
Australian and equivalent New Zealand accounting standards are presented when a standard is referenced
Chapter 1 'An Introduction to Accounting' has been restructured to provide a clearer introduction to accounting and the users and use of financial information
Chapter 6 'Accounting Subsystems' presents a real small business, Strathclyde Machine Tools, to illustrate how a business uses an accounting system and the type of business events .captured in an accounting system. This chapter also includes a discussion of the differences between manual and computerised accounting systems
Chapter 11 'Statement of Cash Flows' has been updated to include a simplified method for preparing cash flow statements
Chapter 12 'Financial Statement Analysis' contains an integrated financial analysis of Nick Scali Limited and Fantastic Furniture Ltd highlighting performance, solvency and liquidity ratios
Real world companies and financial information have been updated and used to highlight accounting processes and reinforce learning via Business Insights and financial analysis
Australian, New Zealand and International Business Insights apply accounting tools to business decisions.