Accounting: Tools for Business Decision Making, 5th Edition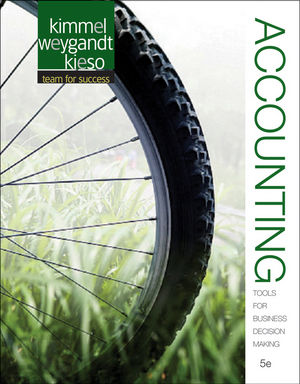 Accounting: Tools for Business Decision Making, 5th Edition
Product not available for purchase
Description
Students get accounting when using Kimmel Accounting with WileyPLUS because we make learning accounting easy and accessible for today's different types of learners. Written in a concise, clear, and conversational way, Kimmel Accounting provides just the right amount of information students need to come to class prepared. With powerful visuals, interactive tutorials, and problem solving videos, Kimmel Accounting makes complex accounting concepts possible to absorb quickly. Starting with the big picture of financial statements, Paul Kimmel shows students why financial and managerial accounting is important to their everyday lives, business majors and future careers.
Students using WileyPLUS do real accounting, get real results. With automatically graded practice and homework assignments, and over 2 hours of video based resources per chapter, students come to class prepared and ready for quizzes and exams. With access to 1,000 practice CPA exam review questions powered by Wiley CPAexcel, students check their intermediate accounting knowledge against CPA exam standards. With internship listings powered by AccountingFly, students have a two-week head start on applying to accounting internships across the country. WileyPLUS for Intermediate Accounting 15th Edition prepares students for success in the course, and in the profession.
WileyPLUS is sold separately from this text.
1 Introduction to Financial Statements 2
2 A Further Look at Financial Statements 46
3 The Accounting Information System 100
4 Accrual Accounting Concepts 162
5 Merchandising Operations and the Multiple-Step Income Statement 228
6 Reporting and Analyzing Inventory 282
7 Fraud, Internal Control, and Cash 334
8 Reporting and Analyzing Receivables 396
9 Reporting and Analyzing Long-Lived Assets 446
10 Reporting and Analyzing Liabilities 504
11 Reporting and Analyzing Stockholders' Equity 568
12 Statement of Cash Flows 624
13 Financial Analysis: The Big Picture 688
14 Managerial Accounting 752
15 Job Order Costing 798
16 Process Costing 844
17 Activity-Based Costing 894
18 Cost-Volume-Profit 944
19 Cost-Volume-Profit Analysis: Additional Issues 984
20 Incremental Analysis 1040
21 Budgetary Planning 1080
22 Budgetary Control and Responsibility Accounting 1132
23 Standard Costs and Balanced Scorecard 1192
24 Planning for Capital Investments 1244
APPENDICES
A Specimen Financial Statements: Tootsie Roll Industries, Inc. A-1
B Specimen Financial Statements: The Hershey Company B-1
C Specimen Financial Statements: Zetar plc C-1
D Time Value of Money D-1
E Reporting and Analyzing Investments E-1*
F Payroll Accounting F-1*
G Subsidiary Ledgers and Special Journals G-1*
H Accounting for Partnerships H-1*
I Accounting for Sole Proprietorships I-1*
J Pricing J-1
Company Index I-1
Subject Index I-3
Updated interior design and info graphics that make the text easier to read
Brand new opening stories engage students and include companies students know and whose products and services they use, like Groupon, ClifBar, REI, Nike, and JetBlue
New sustainability coverage throughout the book called People, Planet, Profit and reinforced with a People Planet Profit end of chapter question
New Wiley Managerial Accounting Videos use real, successful companies to demonstrate and reinforce managerial accounting concepts. 
New research cases based on business world events give students the opportunities to critical apply their knowledge to real world business scenarios. 
New Problem Set B for additional practice
New analysis problem presents managerial accounting situations that are based on the operations of a real company called Current Designs (kayak-making company), which is introduced in Managerial Accounting chapter opener.
PowerPoint slides include teaching tips to foster in class discussions. 
New Pricing appendix available online.
More students get accounting when using Kimmel Accounting with WileyPLUS, because they can Read It, See It, Do It – Get It.
 Read It! Real World Context
Championed by users as easy to read and providing just the right amount of information students need to come to class prepared and succeed in the two semester introductory accounting course covering financial and managerial accounting. Real-world companies and business situations give students a glimpse into how real companies use accounting.
Feature Stories introduce chapter topics in fun ways using real-world companies that are engaging.
Issues that affect today's business world are highlighted in the textbook.
Insight Boxes frame real-world company issues through international, ethical, and investor and sustainability perspectives.
See It! Content for All Learning Styles
Sometimes a picture is worth a thousand words. Kimmel, Accounting conveys complex accounting ideas through powerful visuals making it possible to absorb accounting concepts quickly and see the connections between journal entries and financial statements.  In addition to a textbook consistently reviewed as very readable, over 50% of the textbook provides visual presentations and interpretations of content.
Equation Analysis Illustrations visually walk students through the steps of journal transactions.
Cash Flow Analyses visually summarize the effects of transactions on cash flows.
Infographics reinforce important textual concepts. Infographics were revised in the Fifth Edition.
Illustrations are clearly identified and often present data in a real-world format.
Do It! Know the Fundamentals
Students need to do accounting to get accounting.  Do it! exercises throughout the textbook help students practice their understanding of accounting, while market leading end-of-chapter material in the book and available in WileyPLUS gives instructors the flexibility to assign the problems that align with specific learning objectives.  Kimmel Accounting provides market leading problem-solving material that you can assign for practice, homework, or in class work. The WileyPLUS problem-solving experience imitates a blank sheet of paper with Type-Ahead for entering account titles, so that students use recall memory when they practice or do homework online. Now in WileyPLUS, students catch their mistakes early and access content-specific resources at the point of learning with new multi-step problems that provide feedback at the step-level.
Clear Do it! exercises in the textbook narrative provide step-by-step applications of a concept at the precise moment you acquire the knowledge. Each Do it! in the textbook narrative includes a solution, an Action Plan, and a path of related homework exercises.
Comprehensive Do it!'s at the end of each chapter apply the Do it! and address multiple topics.
End-of-Chapter Do it! exercises provide further practice with alternate versions of the in-chapter Do It! exercises.
Market Leading End-of-Chapter Material – End of chapter material includes self-test questions, questions, brief exercises, exercises (Online Exercise Set B), Problem Set A &B (Online Problem Set C).
Comprehensive Problems – Beginning with chapter 5, Comprehensive Problems offer the perfect accounting cycle review at the end of each chapter. 
Continuing Cookie Chronicle Serial Problem– designed for the financial chapters, the Continuing Cookie Chronicle is a serial problem that continues through every chapter and follows the story and business events of accounting for a cookie making school. 
Waterways Continuing Problem –designed for the managerial accounting chapters follows the continuing story of the managerial accounting decisions made by Waterways Corporation, that provides products and services needed to irrigate parks, farms, commercial projects, and private lawns.
Broadening Your Perspective Section – is designed to help develop students' analysis and critical thinking skills with these elements:

Financial Reporting and Analysis (financial chapters only)

Financial Reporting Problem: Tootsie Roll Industries
Comparative Analysis Problem: Tootsie Roll vs. Hershey
Research Case
Interpreting Financial Statements
Real-World Focus

Management Decision Making (managerial chapters only)

New Decision Making at Current Designs
Decision-Making Across the Organization
Managerial Analysis
Real-World Focus

Critical Thinking

Communication Activity
Ethics Cases
All About You
FASB Codification Activity (financial chapters only)
New Considering People, Planet, and Profit
Considering Your Costs and Benefits.

A Look at IFRS (financial chapters only)

Key Points
Looking Into the Future
IFRS Practice
IFRS Concepts and Application
International Financial Statement Analysis
Get It! Tools for Decision Making
As an employee, manager, or even a director of students' personal finances, with Kimmel Accounting students will make better decisions by learning how to analyze and solve business problems using tools provided throughout each chapter.
The Decision Toolkit and the Decision Toolkit Summary direct students to the tools and information they need when evaluating business issues.
Using the Decision Toolkit asks students to apply toolkit lessons to a financial statement analysis exercise. Suggested solutions are provided.
Accounting Across the Organization places accounting issues within the context of marketing, management, IT, and finance.