Accounting Ethics, 2nd Edition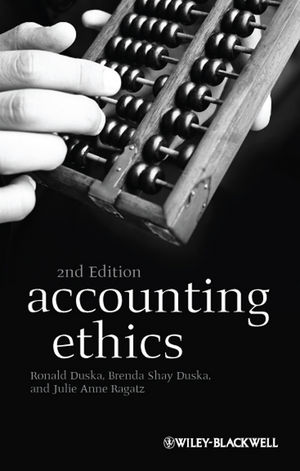 Accounting Ethics, 2nd Edition
ISBN: 978-1-405-19613-0
Apr 2011, Wiley-Blackwell
254 pages
Description
This new edition of Accounting Ethics has been comprehensively updated to deal with the significant changes within the accounting profession since 2002; the authors systematically explore the new range of ethical issues that have arisen as a result of recent developments, including the financial crisis of 2008.
Highlights the debates over the use of fair-value accounting and principles- versus rules-based standards
Offers a comprehensive overview of ethics in accounting, as well as an examination of and recommendations for solving the current crisis in this field
Investigates the nature and purpose of accounting
Uses concrete examples and case studies, including current situations
Examines the ethical responsibilities of individual accountants as well as accounting firms
Acknowledgments x
Preface xii
Introduction 1
1 The Nature of Accounting and the Chief Ethical Difficulty: True Disclosure 9
I The Nature of Accounting 10
II Ethics of Disclosure 14
III The Financial Statement 17
IV Roles an Accountant can Fulfill 20
V Development of Explicit Accounting Standards and Regulations 22
VI The Sarbanes–Oxley Act (SOX) 27
VII Recent Scandals that Provoked More Regulation 29
VIII Conclusions 30
2 Ethical Behavior in Accounting: What Is Ethics? 31
I What Is Ethics? 34
II Ethics: The Intellectual Enterprise 35
III Actions 35
IV Social Practices, Institutions, and Systems 36
V Why Study Ethics? 36
VI Being Ethical: How to Determine What to Do 38
VII Questions to Ask to Justify An Action: The Basis of Ethical Theory 42
VIII Using the Reasons 46
IX Ethical Dilemmas 47
X Some Classic Moral Dilemmas 48
3 Ethical Behavior in Accounting: Ethical Theory 51
I Egoism 52
II Utilitarianism 57
III Kant and Deontology 61
IV Deontological Ethics 62
V The First Formula of the Categorical Imperative 64
VI The Second Formula of the Categorical Imperative 65
VII Virtue Ethics 66
4 Accounting as a Profession: Characteristics of a Profession 69
5 Accounting Codes of Conduct 77
I AICPA Professional Code of Conduct 79
II Code Principles 80
III Criticisms of the Code of Conduct 92
6 The Rules of the Code of Conduct 93
I Section 100 – Independence, Integrity, and Objectivity 94
II Section 200 – General Standards Accounting Principles 99
III Section 300 – Responsibilities to Clients 102
IV Section 400 – Responsibilities to Colleagues 103
V Section 500 – Other Responsibilities and Practices 103
7 The Auditing Function 109
I The Ethics of Public Accounting 113
II Trust 115
III The Auditor's Responsibility to the Public 116
IV The Auditor's Basic Responsibilities 118
V Independence 122
VI Independence Risk 127
VII Professional Skepticism 131
VIII Reasonable Assurance 133
8 The Ethics of Managerial Accounting 135
I Reasons Used to Justify Unethical Behaviors 140
II Blowing the Whistle 144
9 The Ethics of Tax Accounting 151
10 Ethics Applied to the Accounting Firm 167
I Accounting as a Business 169
II The Social Responsibility of Business 170
III Good Ethics is Good Business 175
IV Ethical Responsibilities of Accounting Firms 177
V The Accounting Profession in Crisis 177
Afterword: Current Debates on Accounting Issues 185
I Fair Value and Principles vs. Rules 185
II Fair Value Accounting 189
III Arguments For and Against the Fair Value Approach 193
IV Summary 198
V Principles vs. Rules 199
VI Introduction 199
VII Isn't GAAP Already Principles Based? 200
VIII An Example: The Continental Vending Case 204
IX Recent Developments of "Present Fairly" 206
X A Better Question 207
XI Argument for a Rules Based Approach 208
XII What Would a Principles Based Approach Look Like? The True and Fair Override 211
XIII Argument for a Principles Based Approach 212
XIV Conclusion 215
Appendix A: Summary of Sarbanes–Oxley Act of 2002 217
Appendix B: The IMA Code of Conduct for Management Accountants 230
Index 233
This second edition has been comprehensively updated to encompass changes within the accounting profession since the publication of the first edition in 2002. Uses up-to-date case studies and addresses current issues such as the Sarbanes-Oxley Act. 
Praise for the first edition:
"This book is a long awaited and significant contribution to business ethics. At last, a book that addresses the full range of accounting, tax, and audit issues, integrating the perspective of the accounting profession with that of a trained ethicist. This is a must-read for everyone in the accounting profession and in business ethics. Bravo Duskas!"
—Patricia H. Werhane, Darden Graduate School, University of Virginia
"Accounting Ethics offers a superb, accessible introduction to the traditions and responsibilities of individual accountants and their firms."
—Carlin Romano, The Philadelphia Inquirer
"... the author's clear, practical, and jargon-free presentation makes this book a valuable resource or nonaccountants and required reading for every accountant and student of accounting."
—Choice, November 2003
"As a guide to the basic issues and ideas concerning ethics for students with little prior exposure to the debates in accounting and the theories in ethics, this text is likely to be very useful. It is easy to read, informative and provides a good base for discussion."
—European Accounting Review
This second edition has been comprehensively updated to encompass changes within the accounting profession since the publication of the first edition in 2002
Highlights the debates over the use of fair-value accounting and principles- versus rules-based standards
Offers a comprehensive overview of ethics in accounting, as well as an examination of and recommendations for solving some of the current crises in this field
Investigates the nature and purpose of accounting
Uses concrete examples and case studies, including current situations
Examines the ethical responsibilities of individual accountants as well as accounting firms