Accounting Information Systems, 12th Edition International Student Version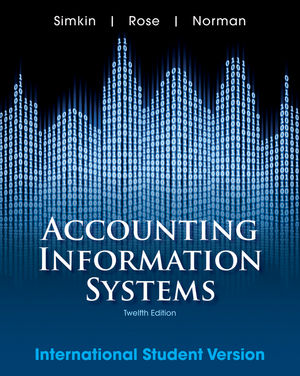 Accounting Information Systems, 12th Edition International Student Version
ISBN: 978-1-118-37948-6
Jun 2012
476 pages
Product not available for purchase
Description
Mark Simkin, Jacob Rose, and Carolyn S. Norman's essential text helps students understand basic AIS concepts and provides instructors the flexibility to support how they teach the course, while still covering the basic concepts of Accounting Information Systems (AIS).
Given the variety of objectives for an AIS course and the different ways that instructors teach it, the authors developed Accounting Information Systems to cover only the core topics what are covered in any AIS course. The text is designed for a one-semester course in AIS and may be used at the community college, baccalaureate, or graduate level.


PART ONE AN INTRODUCTION TO AISs
CHAPTER 1 Accounting Information Systems and the Accountant
Introduction
What Are Accounting Information Systems?
What's New in Accounting Information Systems?
Accounting and IT
Careers in Accounting Information Systems
CHAPTER 2 Information Technology and AISs
Introduction
The Importance of Information Technology to Accountants
Input, Processing, and Output Devices
Secondary Storage Devices
Data Communications and Networks
Computer Software
PART TWO DATABASES
CHAPTER 3 Data Modeling
Introduction
An Overview of Databases
Steps in Modeling a Database Using the REA Approach
Normalization
CHAPTER 4 Organizing and Manipulating the Data in Databases
Introduction
Creating Database Tables in Microsoft Access
Entering Data in Database Tables
Extracting Data from Databases: Data Manipulation Languages (DMLs)
Recent Database Advances and Data Warehouses
CHAPTER 5 Database Forms and Reports
Introduction
Forms
Reports
PART THREE DOCUMENTING BUSINESS PROCESSES
CHAPTER 6 Documenting Accounting Information Systems
Introduction
Why Documentation is Important
Primary Documentation Methods
Other Documentation Methods
End-User Computing and Documentation

CHAPTER 7 AISs and Business Processes I
Introduction
Business Process Fundamentals
Collecting and Reporting Accounting Information
The Sales Process
The Purchasing Process
Current Trends in Business Processes
CHAPTER 8 AISs and Business Processes II
Introduction
The Resource Management Process
The Production Process
The Financing Process
Business Processes in Special Industries
Business Process Reengineering
PART FOUR INTERNAL CONTROL SYSTEMS AND COMPUTER CRIME, ETHICS, AND PRIVACY
CHAPTER 9 Introduction to Internal Control Systems
Introduction
1992 COSO Report
Updates on Risk Assessment
Examples of Control Activities
Update on Monitoring
2011 COBIT, Version 5
Types of Controls
Evaluating Controls

CHAPTER 10 Computer Controls for Organizations and AISs
Introduction
Enterprise Level Controls
General Controls for Information Technology
Application Controls for Transaction Processing
CHAPTER 11 Computer Crime, Fraud, Ethics, and Privacy
Introduction
Computer Crime, Abuse, and Fraud
Examples of Computer Crime
Preventing Computer Crime and Fraud
Ethical Issues, Privacy, and Identity Theft
PART FIVE SPECIAL TOPICS IN ACCOUNTING INFORMATION SYSTEMS
CHAPTER 12 Information Technology Auditing
Introduction
The Audit Function
The IT Auditor's Toolkit
Auditing Computerized AIS
Information Technology Auditing Today
CHAPTER 13 Developing and Implementing Effective AISs
Introduction
The System Development Life Cycle
Systems Planning
Systems Analysis
Detailed Systems Design
Implementation, Follow-Up, and Maintenance
CHAPTER 14 Accounting on the Internet
Introduction
The Internet and World Wide Web
XBRL - Financial Reporting on the Internet
Electronic Business
Privacy and Security on the Internet
CHAPTER 15 Accounting and Enterprise Software
Introduction
Integrated Accounting Software
Enterprise-Wide Information Systems
Selecting a Software Package

Glossary
Index
This edition of our book includes a number of changes from prior editions. These include:
• A new co-author -- Jacob Rose joins the team with an international reputation in the AIS community.
• All new database chapters -- Material related to the design of databases and database theory is all presented in the first database chapter, while the following two chapters describe how to apply the theoretical concepts using Access 2010. The new approach allows instructors to easily select a desired emphasis: theory, application, or both. New database diagramming methods simplify the design process for students.
• More Test Yourself -- Multiple choice questions at the end of each chapter to help students assess their understanding of the chapter material.
• Expanded coverage of topics current topics important to accounting systems, including cloud computing, data mining, sustainability accounting, forensic accounting COBIT version 5, COSO's 2010 Report on Enterprise Risk Management, enterprise controls, and internal auditing of IT.
• New AIS at Work features at the end of appropriate chapters help students better understand the impact of systems in a wide variety of contexts.
• Focus on core concepts and flexibility have made his book widely adopted at a variety of different schools.
• Real World Focus with many real-world Cases-in-Points woven into the text material. Each chapter includes a detailed real-world case or concept in an end-of-chapter AIS-at-Work feature.
• Variety in Assessment through four types of end-of-chapter exercises (discussion questions, problems, Internet exercises, and cases) help students understand the material and gauge their progress.
• Recommendation for further inquiry includes lists of references, recommended readings, and web sites at the end of each chapter allow interested students to explore the chapter material in greater depth.