Accounting Information Systems, 5th Edition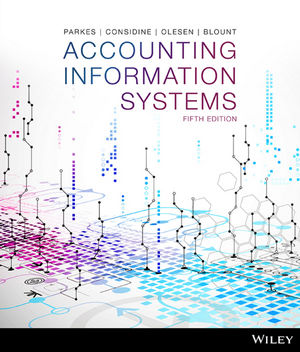 Accounting Information Systems, 5th Edition
ISBN: 978-0-730-32504-8
Sep 2016
678 pages
Product not available for purchase
Description
The latest resource from Parkes et al., Accounting Information Systems, 5th Edition covers all the core topics in 14 concise chapters, delivered as an interactive Wiley E-Text: Powered by VitalSource, for a more engaging and active learning experience. This digital resource is a landmark departure from the traditional print text, allowing your students to benefit from the interactive functionality and flexibility that simply cannot be achieved with print.
Trusted Content: Know your students are getting the best from the Wiley content you know and trust, enhanced with digital delivery.
Emerging Technology Focus: Includes a new chapter on Technology Concepts, discussing emerging technology in the context of accounting and providing students with the most up-to-date information.
Interactive Revision Sets: Revision questions at the end of every section help students to check their comprehension and get immediate feedback.
Search Functionality: The full text search functionality allows students to quickly identify all instances of a key word or phrase.
Highlight and Annotate: The colour-coded highlights and note-taking application allow students to tag and add their own notes to important content.
Note Exporting: Students can copy and export sections of text together with bibliographical information, and print out selected content to prepare for exams.