Accounting Information Systems: The Processes and Controls, 2nd Edition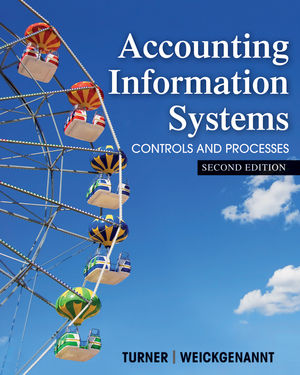 Accounting Information Systems: The Processes and Controls, 2nd Edition
ISBN: 978-1-118-16230-9
Jan 2013
688 pages
Product not available for purchase
Description
Turner & Weickgenannt's 2nd edition of Accounting Information Systems continues to organize key AIS course content (e.g. ERP and relational databases, REA, controls) around four major themes: simplicity of writing and presentation (lower level), business processes, accounting and IT controls, and ethics as it relates to accounting systems. The text offers real-world focus that impacts the chapter exposition, discussion questions, and end-of-chapter exercises and cases. It includes an emphasis on readability that extends beyond the narrative to the flowcharts and illustrations. Furthermore, the limit on the number of complex diagrams in the book includes screen captures of tasks/activities in Microsoft Dynamics software to illustrate certain concepts. The text offers a more in-depth discussion on ethics in each chapter.More features of this edition include: a discussion of Cloud Computing and on risks and controls related to cloud computing, added emphasis on audit trails and segregation of duties as well as tie-in with change control and patch management, greater emphasis on continuous auditing and relevant updates regarding recent economic trends, internal audit, and impact of IFRS on audit risk, significant updates to the e-commerce and e-business discussion, expanded coverage of segregation of duties in ERP systems and ERP control reports, and Real-World vignettes updated throughout the textbook.
Cloud Computing topics added in several chapters.
Enhanced presentation of the components of internal control in Chapter 3 for consistency with proposed updates to the COSO framework.
More emphasis on continuous auditing in Chapter 7.
Updates in chapter 7 pertaining to the impact of IFRS on audit risk and the AICPA's new framework on service organization controls (including cloud providers).
Expanded discussion of data in Chapter 13, including the use of unstructured data and its impact on the size of databases.
Updated presentations of e-business, internet EDI, and XBRL in Chapter 14.
Increased coverage of segregation of duties in ERP systems and ERP control reports in Chapter 15.
Enhanced and updated "Real World" vignettes in most chapters.
Writing Style: Designed to give students an appreciation for internal controls, this textbook introduces only the technology most necessary and the authors write in a style that makes these technical concepts easy to understand.
Process Maps: In addition to data flow diagrams and document flowcharts, Turner AIS introduces Process Maps which are a tool used in the real world that presents business processes in a clear, simple manner
Business Process Approach: Understanding that all systems are influenced by business process, this text emphasizes the "business" in business process so students have more context for the systems.
Continuing Case: Found at the end of all chapters.
Microsoft Dynamics GP screen shots illustrate AIS via a real computer system.