Accounting Information Systems: Understanding Business Processes, 3rd Edition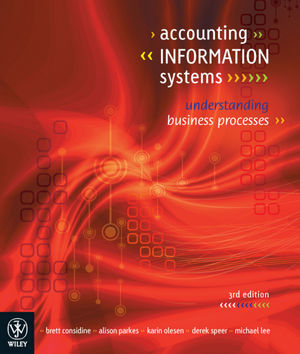 Accounting Information Systems: Understanding Business Processes, 3rd Edition
ISBN: 978-1-742-16555-4 December 2010 783 Pages
Description
Accounting Information Systems: Understanding Business Processes is the third edition of the only local (Australian) textbook available to students who are required to study a subject on accounting information systems. Due to the converging role of accounting and information systems in business, students are required to possess a firm understanding of accounting information systems and how they impact upon various core business processes.

As today's business world is governed by the recommendations of Sarbanes-Oxley and the accounting profession rebuilds its confidence with various stakeholders, the need for quality information and robust accounting information systems to paramount to an organisations ability to manage operations, make investment decisions, strategically plan, grow the business, and report accurately about financial performance.
Part 1
1. Introduction
Part 2 Systems characteristics and considerations
2. Business processes
3. Database Concepts
4. Database Concepts II
5. Systems documentation
6. Enterprise information systems
7. Internal Control overview
8. Internal controls II
Part 3 Systems in action
9. Transaction cycle - the revenue cycle
10. Transaction cycle - the expenditure cycle
11. Transaction cycle - the production cycle
12. Transaction cycle - human resource and payroll cycle
13. Transaction cycle - the general ledger and financial reporting cycle
Part 4 Systems issues
14. Systems development
15. Auditing of accounting information systems
16. Ethics, fraud and computer crime
New chapters on database concepts and internal controls
The five transaction cycle chapters have been completely rewritten and present a consistent content structure - key objectives, use for decisions, data flows and risks - providing a holistic and interconnected overview of transaction cycles
New content reflecting the heightened focus on risk management, corporate accountability and governance
Expanded coverage on internal controls relating to corporate and IT governance
Auditing of accounting information systems updated in accordance with the current responsibilities of audit committees as required under the Australian Auditing Standards.
AIS in Focus - highlights a range of AIS issues and profiles how real company's implement and utilise various AIS tools
Self-test activities - multiple choice questions test student knowledge and understanding of the concepts presented in the chapter
Discussion questions and Problems - expanded in new edition to provide students with more scenarios to test their knowledge presented in the chapter.