Accounting Principles, 10th Edition International Student Version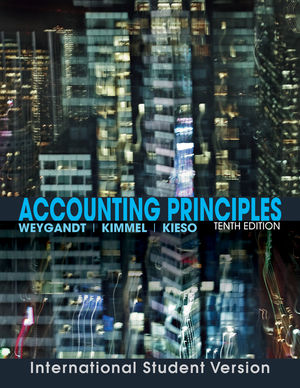 Accounting Principles, 10th Edition International Student Version
Description
In the new Tenth Edition of Accounting Principles, students can clearly see the relevance of accounting in their everyday lives.  By introducing challenging accounting concepts with examples that are already familiar to the student, it connects to students and increases motivation, a key driver of studenttime spent on assignmentsand ultimately their mastery of the concept. By expanding coverage of IFRS, this edition keeps students at the forefront of global issues that impact their future careers in business and accounting.
1 Accounting in Action.
2 The Recording Process.
3 Adjusting the Accounts.
4 Completing the Accounting Cycle.
5 Accounting for Merchandising Operations.
6 Inventories.
7 Accounting Information Systems.
8 Fraud, Internal Control, and Cash.
9 Accounting for Receivables.
10 Plant Assets, Natural Resources, and Intangible Assets.
11 Current Liabilities and Payroll Accounting.
12 Accounting for Partnerships.
13 Corporations: Organization and Capital Stock Transactions.
14 Corporations: Dividends, Retained Earnings, and Income Reporting.
15 Long-Term Liabilities.
16 Investments.
17 Statement of Cash Flows.
18 Financial Statement Analysis.
19 Managerial Accounting.
20 Job Order Costing .
21 Process Costing.
22 Cost-Volume-Profit.
23 Budgetary Planning.
24 Budgetary Control and Responsibility Accounting.
25 Standard Costs and Balanced Scorecard.
26 Incremental Analysis and Capital Budgeting.
APPENDICES.
A Specimen Financial Statements: PepsiCo, Inc. A1.
B Specimen Financial Statements: The Coca-Cola Company, Inc. B1.
C Specimen Financial Statements: Zetar plc C1.
D Time Value of Money D1.
E Using Financial Calculators E1.
F Standards of Ethical Conduct for Management Accountants F1.
A Look at IFRS: New section at end of each chapter section includes an IFRS overview, differences between GAAP and IFRS (Key Points), IFRS/GAAP convergence efforts (Looking to the Future), and IFRS Self-Test Questions (plus answers). An IFRS Application section is also included with IFRS review exercises (including an International Comparative Analysis Problem: Tootsie Roll vs Zetar (Zetar is U.K. candy company).
Accounting Cycle Chapter Unification/Updates/Clarification:

For many students, success in an introductory accounting course hinges on developing a sound conceptual understanding of the accounting cycle. In the past, we have received positive feedback regarding the expanded equation analysis that we have employed to introduce the recording process in Chapters 1 and 2. In the 10th edition Chapter 3 offers a new, more graphical and user-friendly analysis of Adjusting the Accounts. Basic analysis and Equation Analysis discussions are more clearly presented through new illustrations.
Complete Continuing Cookie Chronicle problem statements provided for Chapters 1-4 in the textbook.

Service Company Expanded Emphasis:

New sections within each chapter discuss similarities and differences of applying managerial accounting techniques in a service rather than a manufacturing environment
New Service Company Insight boxes apply managerial accounting concepts to real-world service company examples.

Additional service company examples were added to the end-of-chapter content Service content is highlighted throughout the textbook with a new "Service" icon.
Terminology: Reflect latest terminology changes required by changes to the conceptual framework:

Expense recognition principle (previously matching)
Periodicity assumption (previously time period)
Fair value replaces market value in many instances

Anatomy of a Fraud: In the 9th Edition we added the new feature "Anatomy of a Fraud" to illustrate how the lack of specific internal controls resulted in real-world frauds. In this edition, we have expanded it throughout the textbook to demonstrate the importance of internal controls to all assets and liabilities.
Enhanced Homework Material:

Updated with the new Pepsi-Co and The Coca-Cola Company Statements
New FASB codification Activities now appear at the end of every chapter and offer students experience in using the system.

Chart of Accounts: Streamlined in order to reduce possible confusion and keep students focused on concepts that really matter.
Accounting Across the Organization places accounting issues within the context of marketing, management, IT, and finance.
"Do It" Problems - increased number of Do It problems throughout the chapter. Students benefit from more examples of worked out problems.
Comprehensive Do It Problem with Action Plan - gives students an opportunity to see a detailed solution to a representative problem before they do their homework. Coincides with the Do It problems within the chapter.
International Notes - helps students understand the impact of International trends, topics, etc on Financial Accounting. Discusses the convergence between US GAAP and International GAAP.
Ethics Notes - discussion of ethics in accounting as it pertains to a particular topic.
All About You - Introduces challenging Accounting concepts with examples that are familiar to the student from their own personal lives. Select chapters and online
Accounting Equation Analysis - Reinforces the understanding of the impact of an accounting transaction on the journal entries.
Insight Boxes (Investor Insight, International Insight, Ethics Insight) - Give students glimpses into how real companies use accounting in practice.
Continuing Cookie Chronicle Online Practice Set - follows the continuing saga of accounting for a small service and manufacturing business for each financial chapter.
Waterways Continuing Online Practice Set - follows the continuing story of the managerial accounting decisions made by Waterways Corporation.
Comprehensive Problem - combines problems across chapters.
The Navigator - guides students through each chapter by pulling all the learning tools together into a learning system.
EOC (end of chapter) Material - self study questions, questions, brief exercises, 2 sets of exercises (one online), 3 sets of problems (one online).
Broadening Your Perspective - material at the end of each chapter which allows instructors to broaden the learning experience by bringing in more real-world decision making, analysis and critical thinking activities.