Accounting Principles, Managerial Concepts Seventh Canadian Edition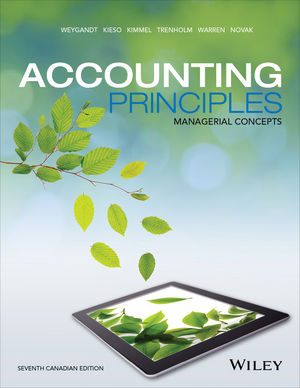 Accounting Principles, Managerial Concepts Seventh Canadian Edition
ISBN: 978-1-119-31029-7
Jun 2016
216 pages
Product not available for purchase
Description
For over 15 years, Weygandt, Accounting Principles has been praised by both instructors and students across the country for its outstanding visual design, its carefully integrated pedagogy, and its excellent writing style and clarity of presentation. Our main focus continues to be 'Student Success in Accounting' and the new seventh edition package further enables both instructors and students to achieve successful learning outcomes. Accounting Principles, Seventh Canadian Edition enables students to become independent and successful learners by including a variety of additional resources, and new features that empower students to apply what they have learned in the classroom to the world outside the classroom. The seamlessly integrated digital and print resources to accompany Accounting Principles, Seventh Canadian Edition offer additional tools for both instructors and students in order to help students succeed.
Chapter 19
Managerial Accounting 2
Managerial Accounting Fuels Decision-Making 2
Managerial Accounting Basics 4
Comparing Managerial and Financial Accounting 4
Ethical Standards 4
Management Functions 5
Managerial Accounting Today 6
Managerial Cost Concepts 8
Manufacturing Costs 8
Product versus Period Costs 10
Manufacturing Costs in Financial Statements 12
Balance Sheet 12
Income Statement 13
Cost Concepts 14
Cost of Goods Manufactured 14
Chapter 20
Cost-Volume-Profit Relationships 42
Cheaper Nights, Bigger Profits 42
Cost-Behaviour Analysis 44
Variable Costs 44
Fixed Costs 45
Relevant Range 45
Mixed Costs 46
Importance of Identifying Variable and Fixed Costs 48
Cost-Volume-Profit Analysis 49
CVP Income Statement 50
Break-Even Analysis 52
Applying Cost-Volume-Profit Analysis 55
CVP Income Statement Revisited 59
Effects on Income 62
Rationale for Variable Costing 64
Chapter 21
Budgetary Planning 82
A Lesson in Post-Secondary Budgeting 82
Budgeting Basics 84
Benefits of Budgeting and Budgeting Basics 84
The Master Budget 86
Preparing the Operating Budgets 88
Sales Budget 88
Production Budget 88
Direct Materials Budget 89
Direct Labour Budget 90
Manufacturing Overhead Budget 91
Selling and Administrative Expenses Budget 91
Budgeted Income Statement 92
Preparing the Financial Budgets 93
Capital Expenditures Budget 94
Cash Budget 94
Budgeted Balance Sheet 97
Budgeting in Nonmanufacturing Companies 98
Merchandisers 98
Service Companies 99
Not-for-Profit Organizations 99
Chapter 22
Budgetary Control and Responsibility Accounting 126
Striving for a Healthy Balance Sheet 126
The Concept of Budgetary Control and Static Budget Reports 128
Budgetary Control 128
Static Budget Reports 129
Flexible Budgets 131
Why Flexible Budgets? 131
Developing the Flexible Budget 133
Flexible Budget—A Case Study 133
Flexible Budget Reports 135
Management by Exception 136
Concept of Responsibility Accounting 137
Controllable vs. Noncontrollable Revenues and Costs 138
Responsibility Reporting System 138
Types of Responsibility Centres 141
Cost Centres 142
Profit Centres 142
Investment Centres 144
Performance Evaluation 146
Chapter 23
Incremental Analysis and Capital Budgeting 170
Making Room for Profit 170
Incremental Analysis 172
How Incremental Analysis Works 172
Relevant Costs 173
Sunk and Future Costs 173
Types of Incremental Analysis 174
Capital Budgeting 180
Quantitative Techniques in Capital Budgeting 181
Discounted Cash Flow 184
Index I-1
Stepped-out pedagogy breaks down complex topics making the material more manageable for students. Some examples of this pedagogy are:
Before You Go On – These "Do It!" exercises at the end of each Study Objective include an Action Plan and Solution to ensure that students understand what has just been covered before going further.
Demonstration Problems at the end of each chapter review of the major topics in the chapter.
The Accounting Across the Organization and Business Insight boxes reinforce the importance of accounting to all areas of business.
The Ethics Insight feature provides students with real life examples and lifelike ethical dilemmas.
Taking It Further is an additional step that is added to each problem to provide the optional opportunity for students to think more deeply about the concepts.