Accounting Principles, Part 1, 6th Canadian Edition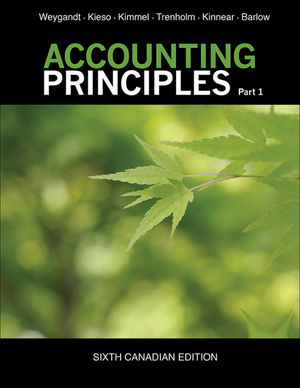 Accounting Principles, Part 1, 6th Canadian Edition
ISBN: 978-1-118-30678-9
Dec 2012
512 pages
Product not available for purchase
Description
For over twelve years, Weygandt, Kieso, Kimmel, Trenholm, Kinnear, Barlow Accounting Principles has been praised by both instructors and students across the country for its outstanding visual design, its carefully integrated pedagogy, and its excellent writing style and clarity of presentation. Our main focus continues to be 'Student Success in Accounting' and the new sixth edition package further enables both instructors and students to achieve successful learning outcomes. It introduces challenging accounting concepts through examples that are familiar to the student with a stepped-out pedagogy that breaks down complex topics making the material more manageable. This connection to their everyday lives helps build student motivation, a key driver of student time spent on assignments and ultimately their mastery of the concepts.
Accounting Principles, Sixth Canadian Edition enables students to become independent and successful learners by including a variety of additional resources, more opportunities to use technology, and new features that empower students to apply what they have learned in the classroom to the world outside the classroom.  The seamlessly integrated digital and print resources to accompany Accounting Principles, Sixth Canadian Edition offer additional tools for both instructors and students in order to help students succeed.   
The integration of International Financial Reporting Standards (IFRS) and Accounting Standards for Private Enterprises (ASPE), introduced in the fifth edition, has been updated while ensuring that the text material is at a level that is appropriate for introductory accounting courses. ASPE icons have been added to the margins where differences are discussed. Comparison charts are included at the end of each chapter summarizing the differences between the standards.
Topic reorganization and structural changes have been made throughout the textbook in response to reviewer feedback and to give instructors more choice of content and flexibility while teaching the material. The two chapters on corporations, 13 and 14, have been completely reorganized by moving the introductory material, such as cash dividends and basic income tax expense, and topics relevant to ASPE, into Chapter 13. More complex topics such as reacquisition of shares and IFRS requirements now appear in Chapter 14.
Do It! problems have been added at the end of each Study Objective as part of ""Before You Go On"". These mini demonstration problems invite students to test their understanding of the just-completed section before they proceed to the next one. The number of Do It! activities in this edition have been substantially increased and each of the previously existing ones have been reviewed to ensure their continuing relevance to the text.
The end-of-chapter demonstration problems have been refreshed and expanded as needed to cover all of the major concepts in the chapter.
Level of difficulty in problem material has been fine-tuned overall, while making sure there is a range of material to cover different needs and to allow students to progress from simpler to more complex application of the topics.
Collaborative Learning Activities have been updated or replaced to take advantage of a wider range of collaborative learning techniques. Flexibility in the application of the material has been increased, allowing instructors to tailor the amount of time required for the activity.
Pedagogical Effectiveness:
The Navigator learning system guides students through each chapter and consists of a series of checklists to show students what to study.
A Learning Styles Model is introduced in the preface and incorporated throughout the book to enable students with different learning approaches to better understand the material. To appeal to all students, the text has been thoroughly reviewed to ensure it provides an unprecedented level of clarity and readability.
Stepped-out pedagogy breaks down complex topics making the material more manageable for students. Some examples of this pedagogy are:
Concepts for Review – Previously learned concepts, which are essential in order to understand the topics about to be covered are listed at the start of each chapter with page references.
Before You Go On – These ""Do It!"" exercises at the end of each Study Objective include an Action Plan and Solution to ensure that students understand what has just been covered before going further in the chapter. References related to Brief Exercises and Exercises are also listed.
Demonstration ­Problems at the end of each chapter with detailed Action Plans and Solutions provide students with a review of the major topics in the chapter.
Relevance for Users:
Feature Stories are brief profiles of real Canadian organizations that connect the chapter information to real world examples and are discussed further throughout the chapter.  Chapter Previews at the beginning of each chapter feature a paragraph linking the opening vignette to chapter material.
The Accounting Across the Organization and Business Insight feature boxes reinforce the importance and relevance of accounting to all areas of business with questions to engage critical thinking skills.
All About You feature boxes and the accompanying Broadening Your Perspective activity, are designed to relate accounting principles to an actual issue that students may encounter in their everyday lives.
Accounting Equation Analyses appear in the margins next to key journal entries. They help your students understand the impact of accounting transactions and cash flows on the financial statements.
Taking It Further is an additional step that is added to each problem in the end-of-chapter material to provide the optional opportunity for students to think more deeply about the concepts in the chapter.