Accounting Principles, Volume 2, 7th Canadian Edition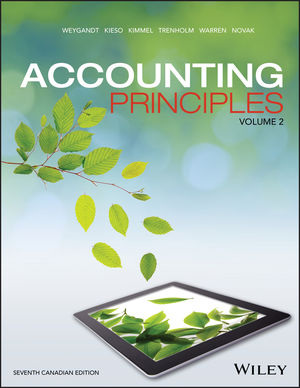 Accounting Principles, Volume 2, 7th Canadian Edition
Description
For over 15 years, Weygandt, Accounting Principles has been praised by both instructors and students across the country for its outstanding visual design, its carefully integrated pedagogy, and its excellent writing style and clarity of presentation. Our main focus continues to be 'Student Success in Accounting' and the new seventh edition package further enables both instructors and students to achieve successful learning outcomes. With this edition, we have added two new authors, Valerie Warren and Lori Novak. They bring fresh new ideas, updates, and continue to implement challenging accounting concepts through examples that are familiar to the student with a stepped-out pedagogy that breaks down complex topics making the material more manageable. This connection to their everyday lives helps build student motivation, a key driver of student time spent on assignments and ultimately their mastery of the concepts.
Accounting Principles, Seventh Canadian Edition enables students to become independent and successful learners by including a variety of additional resources, more opportunities to use new technology, and new features that empower students to apply what they have learned in the classroom to the world outside the classroom. The seamlessly integrated digital and print resources to accompany Accounting Principles, Seventh Canadian Edition offer additional tools for both instructors and students in order to help students succeed.
Volume Two
Chapter 9 Long-Lived Assets
Chapter 10 Current Liabilities and Payroll
Chapter 11Financial Reporting Concepts
Chapter 12 Accounting for Partnerships
Chapter 13 Introduction to Corporations
Chapter 14 Corporations: Additional Topics and IFRS
Chapter 15 Non-Current Liabilities
Chapter 16 Investments
Chapter 17 The Cash Flow Statement
Chapter 18 Financial Statement Analysis
Appendix A Specimen Financial Statements
Appendix B Sales Taxes
Appendix C Present Value Concepts
This new edition now has WileyPLUS with ORION available. Based on cognitive science, WileyPLUS with ORION provides students with a personal, adaptive learning experience so they can build their proficiency on topics and use their study time most effectively. WileyPLUS with ORION helps students learn by learning about them.
New author team, Valerie Warren and Lori Novak.
New video material: problem walkthrough videos and applied skills videos
New animations on 'Using a Worksheet'
New additional questions in WileyPLUS
Stepped-out pedagogy breaks down complex topics making the material more manageable for students. Some examples of this pedagogy are:
Before You Go On – These "Do It!" exercises at the end of each Study Objective include an Action Plan and Solution to ensure that students understand what has just been covered before going further.
Demonstration Problems at the end of each chapter review of the major topics in the chapter.
The Accounting Across the Organization and Business Insight boxes reinforce the importance of accounting to all areas of business.
The Ethics Insight feature provides students with real life examples and lifelike ethical dilemmas.
Taking It Further is an additional step that is added to each problem to provide the optional opportunity for students to think more deeply about the concepts.