Accounting Theory, 7th Edition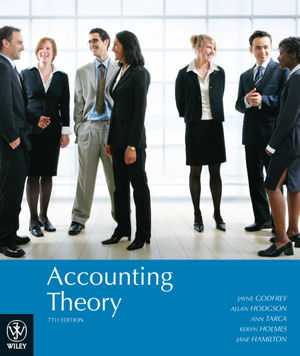 Accounting Theory, 7th Edition
ISBN: 978-0-470-81815-2
Jun 2010
524 pages
Description
Accounting Theory 7e is the new edition of this widely respected accounting theory textbook. The new edition has been updated in accordance with ongoing developments the IASB Framework and reporting and disclosure requirements as a consequence of international harmonisation of accounting standards. The strength of this textbook has always been the balanced approach taken to explain and discuss alternative theories. The new edition continues with this tradition and seeks to make a clearer connection for students, studying accounting theory, that accounting theory is important and relevant.

The Framework of the International Financial Reporting Standards (IFRS) has required significant consolidation and rewriting of chapters. More than ever, the focus of this new edition is to provide students with an understanding of the Framework and how accounting information can be interpreted, disclosed and reported in practice. The new edition continues to present the latest research and developments in accounting theory whilst maintaining an objective perspective.
Part One Accounting theory
1. Introduction
2. Accounting Theory Construction
3. Applying theory to accounting regulation
Part Two Theory and accounting practice
4. A conceptual framework
5. Measurement theory
6. Accounting measurement systems
7. Assets
8. Liabilities and owners' equity
9. Revenue
10. Expenses
Part 3 Accounting and research
11. Positive theory of accoutning policy and disclosure
12. Captial market research
13. Behavioural Research in Accounting
14. Emerging issues in accounting and auditing
Major structural change to the table of contents reflects the changing focus of accounting theory subjects and the relevance of the text for students studying accounting theory
Maintains the authoritative explanation and analysis of accounting theory and its practical application to business
Chapters 4 to 10 - thoroughly rewritten to reflect the theoretical underpinnings and change in reporting process as defined by the International Accounting Standards Board
International context of discussing accounting theory concepts and their application.
New chapter on 'Emerging Issues' address the application of accounting theory in respect to sustainability, fair value accounting and future directions in the future of international accounting standards
Consideration of accounting theory to auditing & assurance included in each chapter
The chapters in Part 2 Theory and accounting practice have been thoroughly rewritten to reflect the extensive reforms enacted under IFRSs
Increased number of 'Theory in Action' chapter vignettes and end of chapter case studies to apply theoretical concepts to practical realities and professional events