Accounting for Investments, Volume 2, Fixed Income Securities and Interest Rate Derivatives: A Practitioner's Handbook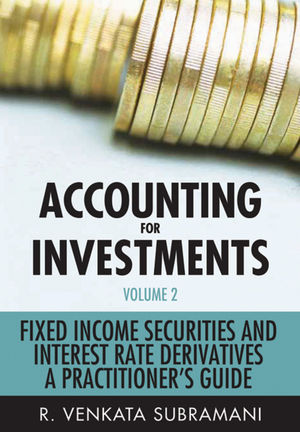 Accounting for Investments, Volume 2, Fixed Income Securities and Interest Rate Derivatives: A Practitioner's Handbook
ISBN: 978-0-470-82905-9
Jul 2011
650 pages
Description
A comprehensive guide to new and existing accounting practices for fixed income securities and interest rate derivatives
The financial crisis forced accounting standard setters and market regulators around the globe to come up with new proposals for modifying existing practices for investment accounting. Accounting for Investments, Volume 2: Fixed Income and Interest Rate Derivatives covers these revised standards, as well as those not yet implemented, in detail.
Beginning with an overview of the financial products affected by these changes—defining each product, the way it is structured, its advantages and disadvantages, and the different events in the trade life cycle—the book then examines the information that anyone, person or institution, holding fixed income security and interest rate investments must record.
Offers a comprehensive overview of financial products including fixed income and interest rate derivatives like interest rate swaps, caps, floors, collars, cross currency swaps, and more
Follows the trade life cycle of each product
Explains how new and anticipated changes in investment accounting affect the investment world
Accurately recording and reporting investments across financial products requires extensive knowledge both of new and existing practices, and Accounting for Investments, Volume 2, Fixed Income Securities and Interest Rate Derivatives covers this important topic in-depth, making it an invaluable resource for professional and novice accountants alike.
Foreword xxiii
Introduction xxv
Preface xxvii
Acknowledgments xxxi
Chapter 1 Fixed Income Securities—Theory 1
Chapter 2 Fixed Income Securities—Fair Value through Profi t or Loss 11
Chapter 3 Fixed Income Securities—Available-for-Sale 113
Chapter 4 Fixed Income Securities—Held-to-Maturity 195
Chapter 5 Presentation, Disclosures & Reclassifi cation 251
Chapter 6 Interest Rate Derivatives—Theory 267
Chapter 7 Interest Rate Swaps—Receive Fixed Pay Floating 283
Chapter 8 Interest Rate Swaps—Pay Fixed Receive Floating 335
Chapter 9 Interest Rate Caps 389
Chapter 10 Interest Rate Floors 483
Chapter 11 Interest Rate Collar 563
Chapter 12 Cross-Currency Swaps (XCCY Swaps) 631
Bibliography 705
Index 707