Accounting with Heart: China's Role in International Finance and Business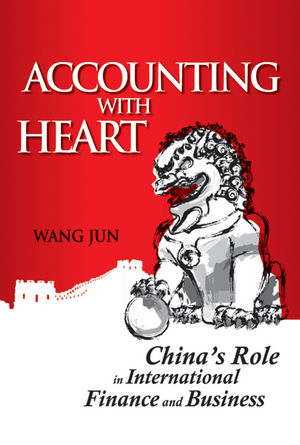 Accounting with Heart: China's Role in International Finance and Business
ISBN: 978-1-118-58056-1 November 2012 200 Pages
Description
In the Western world, examination of business and finance can often be a dry enterprise. Wang Jun shows, through this extraordinary collection of writings, both the breadth of his world view and the connections which surely exist between the finance, the arts, philosophy and culture. His is a singular voice, which takes the reader beyond the normal realm of finance discourse.
—Helen Brand, Chief Executive, ACCA

If China, rapidly becoming one of the world's leading economies, is now equipped with the accounting tools and skills to take its rightful place on the global business stage, it is largely a tribute to the vision and leadership of my colleague Wang Jun. I am delighted that the publication of this book will enable an international audience to hear him speak for himself.
—Sir David Tweedie, Chairman, International Accounting Standards Board (IASB)

This insider's look at the inner workings of China comes from an author who has seen the growth of the modern accounting profession from the start to the present day, as his country prepares for the age of global accounting and auditing standards. Wang Jun's stories of the growth of accountancy in China—and its importance to the expansion of his country's economy—are first and foremost about the cultivation of talent, but also about the importance of accounting standards, ethics and knowledge structures. At an historic juncture during which China ""takes a greater leap, exerts a greater influence and pursues excellence,"" as Mr. Wang puts it, it is good to see that it expects professionals who are well above the ordinary.
—Robert L. Bunting, President, International Federation of Accountants (IFAC)

This book is a remarkable testimony to how China elaborated its voluntary policy toward adopting International Financial Reporting Standards. Education and ethics are central in Mr. Wang's erudite addresses, in which he develops a philosophical dissertation based on the lessons of the past and dedicated to promoting the personal and professional values necessary in the pursuit of excellence in a global environment.
—Hans van Damme, President of the Federation of European Accountants (FEE)

Accounting with Heart energizes, encourages and guides readers to mobilize their passion for learning and the pursuit of excellence; to develop their abilities, management skills, and professional and ethical standards to meet the challenges of globalization; and to take the accountancy profession to new heights. Wang Jun has poured his vast experience into this book which will enrich readers in their striving to become outstanding professionals.
—Kamlesh Vikamsey, Former President, Confederation of Asian & Pacific Accountants

Accounting with Heart reflects Wang Jun's vision for the development of the accountancy profession in China, a goal in which he has invested significant effort. Just as China is a global market, it is fitting that Chinese accountants play an increasingly important role in the international arena. We welcome that progress and recognize it as an important step for the accountancy profession.
—Tim Flynn, Chairman, KPMG

China's role in international finance and business, the subtitle of Vice Minister Wang Jun's insightful new book, is one of the big stories of the twenty-first century. To really understand what's happening in China, one must appreciate the way of thinking of Chinese senior officials, and that's the deep value of Accounting with Heart. Emerging from the core of China's monumental transformation, this is a masterful work of personal journey and wise reflection. Anyone dealing with China will profit from its timeless principles and subtle force.
—Robert Lawrence Kuhn, Author, How China's Leaders Think

Wang Jun brings his enormous experience and understanding of China to his book Accounting with Heart. He has a unique perspective of the development of the economy in China and the role that the accounting profession plays in his country. His commitment to transparency, global standards and integrity are clear in this collection of essays by one of the leading minds in China and across the world. More importantly, Wang Jun's essays outline a roadmap for the development of accounting thought leaders within China while building the framework for educating the next generation of the thousands of professionals within China. It is a must-read for those doing business in all emerging markets.
—Sam DiPiazza Jr., CEO, PwC Limited
Foreword (
Helen Brand, Chief Executive, Association of Chartered Certified Accountants; Sir David Tweedie, Chairman, International Accounting Standards Board
).
Introduction.
1 Recharging Yourself to Face the Challenge.
2 ""Uphold Morality on Strong Shoulders and Create Brilliant Writings with a Fine Hand"".
3 Making Your Writings More Citable and Your Students More Useful to Society.
4 Honesty is the Core of Integrity; Awakening is the Prerequisite to Achievement.
5 Innovative Thinking and the Pursuit of Excellence.
6 A Good Essay is the Result of Good Subject Matter; Steady Progress is the Result of Strong Resolve.
7 Studying Philosophy: Clear Directions at a Glance.
8 Studying Classics for Enlightenment.
Appendix.
Index.