Accreditation, Certification, and Credentialing: Relevant Concerns for U.S. Evaluators: New Directions for Evaluation, Number 145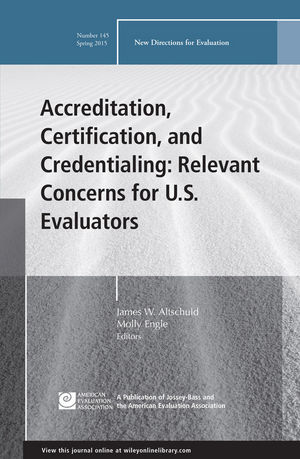 Accreditation, Certification, and Credentialing: Relevant Concerns for U.S. Evaluators: New Directions for Evaluation, Number 145
ISBN: 978-1-119-05769-7 March 2015 Jossey-Bass 128 Pages
Description
This is the 145th issue in the New Directions for Evaluation series from Jossey-Bass. It is an official publication of the American Evaluation Association.
Table of contents
EDITORS' NOTES 1
James W. Altschuld, Molly Engle
1. The Inexorable Historical Press of the Developing Evaluation Profession 5
James W. Altschuld, Molly Engle
The authors provide an overview of the development of the field of evaluation during the past 40–50 years with implications pertinent to accreditation, certification, and credentialing.
2. Competencies for Program Evaluators in Light of Adaptive Action: What? So What? Now What? 21
Jean A. King, Laurie Stevahn
This chapter contains a description of key terms related to competencies, current work going on in studying them, issues for consideration, and use of the skills in the evaluation field.
3. The State of Preparing Evaluators 39
John M. LaVelle, Stewart I. Donaldson
In this chapter are a review of trends in evaluation education programs, recent advances in the professional preparation of evaluators, and a discussion of future research on key topics in evaluation education.
4. How Does Accreditation Fit Into the Picture? 53
James C. McDavid, Irene Huse
Using business management, accounting, and human resource development as examples, the accreditation of institutions or programs offering evaluation education is thoughtfully examined.
5. Credentialed Evaluator Designation Program, the Canadian Experience 71
Keiko Kuji-Shikatani
The rationale for the Canadian system and how it came into being (the forces that shaped it, what it looks like, how it functions, issues, and other aspects) are the main topics covered.
6. Evaluator Certification and Credentialing Revisited: A Survey of American Evaluation Association Members in the United States 87
Michelle Baron Seidling
This chapter analyzes the results of a survey of AEA members within the United States regarding the feasibility, need, and potential for certification or credentialing in the future.
7. Accreditation, Certification, Credentialing: Does It Help? 103
Gene Shackman
This chapter is a synthesis of the prior ones with a careful look at the evidence about whether accreditation, certification, or credentialing improves the evaluation of programs or projects.
INDEX 115