Achieving Balance Between Work and Home Demands: A Download from Integrating Work and Life - The Wharton Resource Guide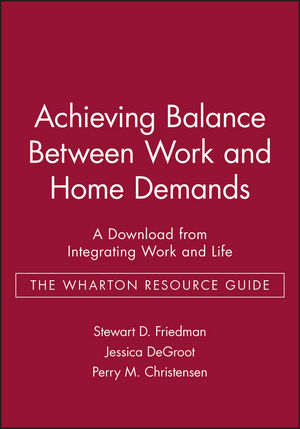 Achieving Balance Between Work and Home Demands: A Download from Integrating Work and Life - The Wharton Resource Guide
ISBN: 978-0-787-97319-3 April 2004 Pfeiffer
Description
This self-assessment serves to heighten the awareness of the participants about balance in their lives. The emphasis is on assessing current situations, identifying values and goals, and examining personal objectives. The activity uses a combination of learning tools to stimulate thought and discussion, including brief lecture, the Family Index of Balance (a simple-to-use, 12-item self-assessment tool), and two facilitated exercises that identify current demands and strategies for handling the stress of these demands. The Family Index of Balance is the key learning activity; it is here that participants can see for themselves a picture of the current balance?or lack of balance?in their lives. Contributed by Jane Henderson-Loney.
Objectives:
To assess one?s current needs for balancing work with personal demands
To explore practical strategies for managing dual-career family stress
Group Size: 5 to 100 participants
Time Required: 1 hour


Important Information to Review Before Making This Download Purchase
Before purchasing a Pfeiffer Download, you will need Adobe® Acrobat® Reader® Software. If you do not already have it installed on your computer, you may download this free software from the Adobe Web site at Adobe.com.
All Pfeiffer Downloads that you purchase from this site will come with specific restrictions that allow Pfeiffer to protect the copyrights of its products. Just before completing your purchase, you will be prompted to accept our License Agreement. If you do not accept the parameters of this agreement, your credit card will not be charged and your order will be cancelled.