Achieving Fair Value: How Companies Can Better Manage Their Relationships with Investors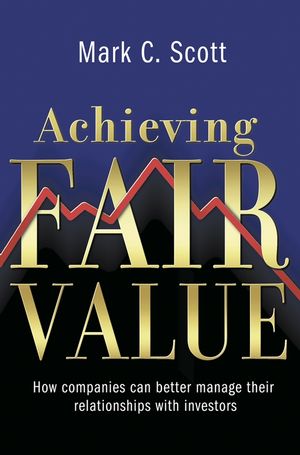 Achieving Fair Value: How Companies Can Better Manage Their Relationships with Investors
ISBN: 978-0-470-02391-4 July 2005 256 Pages
Description
The single biggest preoccupation of senior management of any listed company is its institutional investors. CEOs and CFOs on average spend around 40% of their time dealing with this group, and the implicit goal of most management teams is to maximise share price. Yet the true influences behind movements in share price are poorly understood, and thus many companies do not do a good job of managing their investors. Achieving Fair Value provides the appropriate strategy tools and techniques for management to ensure that their business is valued in a way that accurately reflects its fundamental, sustainable worth for the long term. It is a timely and practical contribution to a topic that should be high on the agenda of any senior management team.
Acknowledgements v
The fair value process vi
Introduction: What is ''fair value'' and why does it matter? 1
Part One: The Imperative for a Fair Value Strategy 7
1 Getting the goals right 9
What should management be trying to achieve on behalf of shareholders?
2 Why do the markets get it wrong? 21
Why do markets fail to identify fair value?
3 Understanding the institutional fund manager 47
Why do fund managers behave as they do and what can management do about it?
Part Two: The Building Blocks of Fair Value 69
4 Towards a fair value strategy 71
Understanding the fair value process
5 Determining fair value 81
How do you know when your company is fairly valued?
6 Targeting value-determining investors 119
Identifying the shareholders that matter
7 Profiling value-determining investors 135
Getting to know the culprits
Part Three: Delivering a Fair Value Strategy 147
8 Towards fair value levers 149
Knowing a good lever from a bad lever
9 Deciding how much to tell investors 163
When ignorance is not bliss
10 Deciding how to tell investors 187
The art of managing communications channels

11 The role of management quality 201
Setting the fair value context
Part Four: The Challenge of Managing for Fair Value 221
12 Managing a fair value strategy 223
The challenge of coordination
13 What to expect from the next decade 231
Bibliography 238
Index 242
"Outlines a systematic process for identifying, understanding and influencing…" (Long Range Planning, August 2006)