Achieving Quality Through Continual Improvement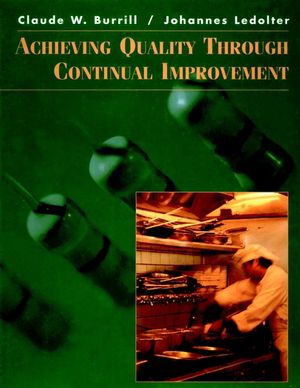 Achieving Quality Through Continual Improvement
ISBN: 978-0-471-09220-9 July 1998 640 Pages
Description
With a lack of appropriate textbooks available for the new quality management courses now proliferating at business schools, this book fills a crucial need in this growing and changing market. The authors bring a unique blend of experience to the text, including academia, consulting in manufacturing and service industries, and a strong information technology background. The text achieves a balance of both managerial and statistical coverage, with an emphasis on processes and hands-on discussion of quality tools. Case studies and extensive examples complement the text.
The text is written for a "management-oriented" course that emphasizes the managerial aspects of quality; basic statistical tools for achieving quality are also covered. The other book by Ledolter and Burrill (Statistical Quality Control: Strategies and Tools for Continual Improvement, Wiley, 1999) can be used for an in-depth discussion of statistical tools.
Table of contents
Introduction to Quality.

History of the Quality Movement.

The Value of Implementing Quality.

People and Quality.

Products, Processes, and Quality.

Exploring the Meaning of Quality.

A PROCESS VIEW OF QUALITY.

The Production Process.

Creating a Production Process.

The Specification Process.

The Design Process.

The Create Process.

The Examine Process.

MANAGEMENT ISSUES IN ACHIEVING QUALITY.

The Quality System.

Establishing a Culture for Quality.

Managing Quality.

Quality and People Management.

STABILIZING QUALITY.

Stabilizing the Quality System.

Managing by Facts: Data Gathering and Data Classification.

Data Analysis and Data Presentation.

Statistical Techniques for Achieving Quality.

IMPROVING QUALITY.

Quality Improvement.

Quality Improvement Initiatives.

Quality Innovation.

CONCLUSION.

Optimism for the Future: Quality Awards and Success Stories.

Appendix.

Index.
What's New
Well balanced author team with academic and professional experience.
Text features a balance of managerial and statistical coverage.
Coverage of manufacturing, service, and business processes; not biased towards any industry.
Emphasis on processes and hands-on discussion of quality tools teach students to address and solve realistic quality problems.
Includes quality improvement projects for individuals and teams.
Case studies and extensive examples complement the text.
Emphasis on quality improvement through management by facts and team work.