Acne For Dummies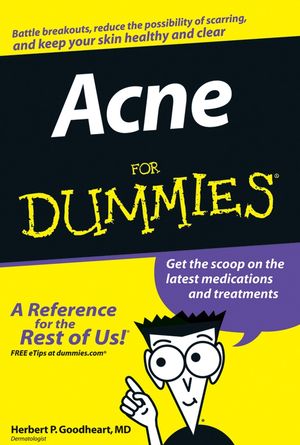 Description
Acne is the most common skin disease in the United States, affecting more than 60 million adults and teenagers each year. Acne For Dummies addresses the causes of acne, and, most importantly, what can safely be done to cover it up, treat it, and minimize scarring. The book covers everything from daily skin care, over-the-counter acne preparations, and when to see a dermatologist to the hazards and benefits of prescription acne medications and the range of dermatological procedures available to erase aftereffects. Also covered are specific issues common to acne as seen in various ethnic groups and other skin problems, such as rosacea, a condition that people often mistake for acne.  
Introduction.
Part I: Facing Up to Acne.
Chapter 1: Dealing with Acne.
Chapter 2: Getting Comfortable with the Skin You're In.
Chapter 3: Tracing the Evolution of a Pimple.
Part II: Figuring Out Your Acne and How to Tackle It on Your Own.
Chapter 4: Examining Acne in Teens.
Chapter 5: Addressing Acne in Adults.
Chapter 6: Evaluating Other Causes and Contributors: Myth and Reality.
Chapter 7: Taking Care of Acne Over the Counter.
Part III: Turning to the Pros to Treat Your Type of Acne.
Chapter 8: Calling in the Experts.
Chapter 9: Reviewing the Topical Tools at Your Dermatologist's Disposal.
Chapter 10: Taking the Oral Antibiotic Route.
Chapter 11: Hormonal Treatment for Women.
Chapter 12: Managing Acne in Dark-Complexioned Skin.
Chapter 13: Attacking Acne with Accutane and Other Isotretinoins.
Chapter 14: Searching for Weapons of Zit Destruction.
Chapter 15: Seeking Alternative Treatments.
Part IV: Dealing with Scars and Associated Conditions.
Chapter 16: Focusing on the Physical Scars.
Chapter 17: Coping with the Psychological Scars.
Chapter 18: Reining in Rosacea and Other Acne Look-Alikes.
Chapter 19: Fighting the Feisty Follicle.
Chapter 20: Reviewing Endocrine Disorders Associated with Acne.
Part V: The Part of Tens.
Chapter 21: Ten Terrific Acne and Rosacea Web Sites.
Chapter 22: Ten Tips for Healthy Skin.
Chapter 23: Ten Things You Should Never Do to Your Skin.
Part VI: Appendixes.
Appendix A: Glossary.
Appendix B: International Brand Names for Some of the Medications Listed in This Book.
Index.
Subscribe to podcasts
Copy and paste the link below into the software you use to subscribe to podcasts (such as iTunes or Yahoo! Music Engine).

If you want to view the RSS 2.0 XML for this podcast (maybe you're just curious), click on this XML link: http://etips.dummies.com/rss/acnefd.xml
If you're not into the podcasting scene, you can listen to the latest podcast episode by clicking on the download tab and clicking the link to the mp3 file or by right-clicking and using the Save Target As option to save the file to your hard drive.