Across the Revolutionary Divide: Russia and the USSR, 1861-1945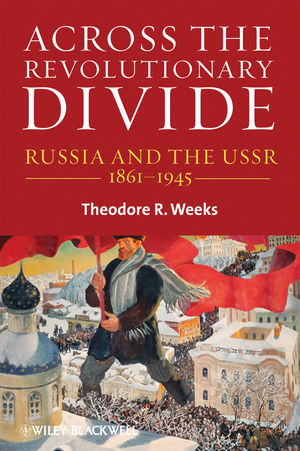 Across the Revolutionary Divide: Russia and the USSR, 1861-1945
ISBN: 978-1-405-16960-8
Aug 2010
296 pages
Description
Across the Revolutionary Divide: Russia and the USSR 1861-1945 offers a broad interpretive account of Russian history from the emancipation of the serfs to the end of World War II.
Provides a coherent overview of Russia's development from 1861 through to 1945
Reflects the latest scholarship by taking a thematic approach to Russian history and bridging the 'revolutionary divide' of 1917
Covers political, economic, cultural, and everyday life issues during a period of major changes in Russian history
Addresses throughout the diversity of national groups, cultures, and religions in the Russian Empire and USSR
Shows how the radical policies adopted after 1917 both changed Russia and perpetuated an economic and political rigidity that continues to influence modern society
Buy Both and Save 25%!
Original Price:$94.90
Purchased together:$71.18
save $23.72
Cannot be combined with any other offers.
Illustrations viii
Series Editor's Preface ix
Acknowledgments xii
Introduction 1
1. Politics 18
2. Society 53
3. Nations 87
4. Modernization 117
5. Belief 147
6. World 175
7. Culture 204
Conclusion 234
Timeline 248
Notes 252
Select Bibliography 269
Index 275
"There are different ways to write a survey of Russian history, and most of them have been tried many times. Yet Simon Dixon, the editor of this excellent three-volume series, has invited his authors to do something new."  (Slavonic and East European Review, 1 April 2012)
""On the whole, there are many positives in this work. The thematic approach makes it clear that certain characteristics were present in both tsarist and Soviet times, and that significant continuities were evident within the political and social aspects of revolutionary Russia."" (Revolutionary Russia, 2 December 2011)
""Recommended. Most levels/libraries."" (Choice, 1 May 2011)
Represents the only text to offer comprehensive coverage of Russian history from 1861 to 1945
Features a unique thematic approach to Russian history
Provides coverage of political, economic, cultural, and everyday life issues during a period of sweeping changes in Russian history
Reveals how the radical policies adopted after 1917 both changed Russia and perpetuated economic and political rigidity that remain significant factors in present-day Russia