Acta Archaeologica Supplementa VIII: Birth of a World Museum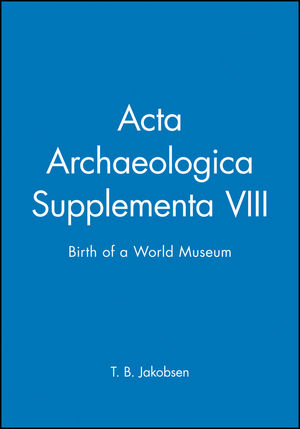 Acta Archaeologica Supplementa VIII: Birth of a World Museum
ISBN: 978-1-405-18571-4
Jan 2008, Wiley-Blackwell
340 pages
Description
A study of The National Museum of Denmark which celebrated its 200 year anniversary in 2007.

Sees a nation in world context, tracing its roots back to C.J. Thomsen's famous collection on Danish prehistory through to the age of science

T. B. Jakobsen traces this development in great detail and with a high degree of accuracy until 1848, at the dawn of democracy

An unusual and thought-provoking collection - no other main European museum is documented to such degree

A study into a highly important aspect of the Danish "Golden Age" of the days of Søren Kierkegaard and Hans Christian Andersen

Includes comprehensive minutes which hold all information on collection, excavation, conservation, exhibition, economics, studies and visitors
Introduction.
1. The History Of Archaeology In Denmark Before 1800.
2. The Historical Background Leading To The Establishment Of The Antiquity Commission.
3. The Establishment Of The Royal Commission For The Preservation Of Antiquities.
4. Permanent Members Of The Antiquity Commission.
5. The Corresponding Members Of The Antiquity Commission And Its Foreign Connections.
6. The Antiquity Commission And The Freemasonry.
7. The Antiquity Commission And The Reports.
8. Monuments And Relics With Inscriptions


A study of The National Museum of Denmark which celebrated its 200 year anniversary in 2007

Sees a nation in world context, tracing its roots back to C.J. Thomsen's famous collection on Danish prehistory through to the age of science

T. B. Jakobsen traces this development in great detail and with a high degree of accuracy until 1848, at the dawn of democracy

An unusual and thought-provoking collection - no other main European museum is documented to such degree

A study into a highly important aspect of the Danish "Golden Age" of the days of Søren Kierkegaard and Hans Christian Andersen

Includes comprehensive minutes which hold all information on collection, excavation, conservation, exhibition, economics, studies and visitors