Action Coaching: How to Leverage Individual Performance for Company Success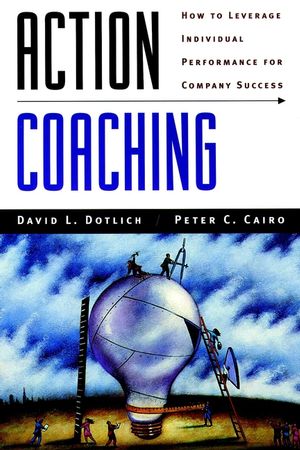 Action Coaching: How to Leverage Individual Performance for Company Success
ISBN: 978-0-787-94477-3
Sep 1999, Jossey-Bass
320 pages
Description
Chances are, if you're a manager in most any organization today, coaching has become an integral part of your responsibilities. And there's no more effective approach to coaching than Action Coaching. Developed by the authors through their work with Levi Strauss, Colgate, Bank of America, Arthur Andersen and other leading companies, Action Coaching is the only coaching process that dramatically increases an individual's personal performance in direct correlation with established organizational goals. Here, Dotlich and Cairo share the same advice, techniques, and tools they've used to transform hundreds of managers and executives into first-rate coaches. Moreover, they clearly demonstrate how Action Coaching can be used as a strategy for achieving organizational goals by aligning personal improvement with a company's vision for the future.
PrefaceThe Authors
Introduction
Part One: Getting Started as an Action Coach
1. Action Coaching: A Brief Introduction
2. The Eight Steps of Action Coaching
3. Action Coach's Toolkit
Part Two: The Coach's Edge: Linking Individual Motivation and Comapny Performance
4. How to Coach for Individual and Company Performance
5. Motivating Change
Part Three: Coaching One-to-One
6. The First Meeting
7. Troubleshooting
8. Who's the Boss?
Part Four: Coaching to Change Your Company
9. Encouraging Productive Collaboration and Constructive Conflict
10. Building Relationship Skills
11. Developing Customer Consciousness
12. Personalizing Leadership
13. The Coaching Evolution
Index
""Dotlich and Cairo have developed an incredibly powerful, practical, and thought provoking way of helping leaders simplify complex issues and drive big improvements in themselves and their organizations."" --Jeffrey M. Nugent, worldwide president, Neutrogena Corporation

""Every page of this book is filled with tips and techniques for making improved performance happen. Good coaching should result in action-and this book shows how it is done."" --Stephen H. Rhinesmith, former chairman, American Society for Training and Development, and author, A Manager's Guide to Globalization

""The global Business Olympics will demand world-class players and coaches. Action Coaching is the manual we need to produce business Olympians for the future."" --Gordon Shank, executive vice president and chief marketing officer, Levi Strauss & Co.